The Berry Company is giving its entire range a new look to promote the natural health credentials of juice-based drinks.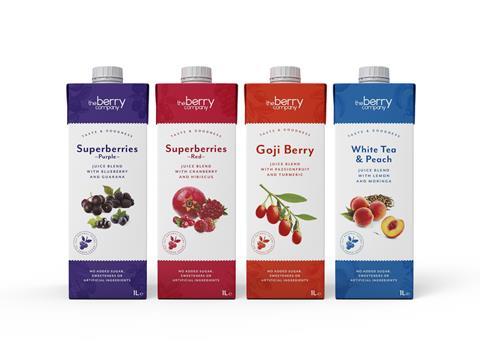 The brand's juices come in 1ltr cartons and feature a mix of tea, berries and botanicals. The range is made using only natural ingredients and without added or refined sugar and zero preservatives, colours or sweeteners.
Suitable for vegans and celiacs, The Berry Company portfolio includes the following flavours: blueberry with grape & baobab; cranberry with red grape & rooibos; goji berry with passionfruit & turmeric; superberries purple with blueberry & guaraná; superberries red with cranberry & hibiscus; and white tea & peach with lemon & moringa.

Khaled Yafi, founder of The Berry Company, said: "We have premiumised our entire juice offering by removing any added sugar, whilst also resisting the temptation to substitute this with stevia or added sweeteners. Instead, we have added more juice and botanicals to ensure our juice blends are always free from added sugar, sweeteners and maintain an all-natural profile."