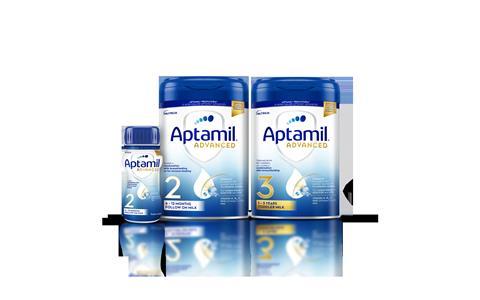 Aptamil has announced Aptamil ADVANCED, a relaunch of its premium formula milk range previously named Aptamil Profutura.
It follows a visual refresh across the wider Aptamil brand range of products and will be supported by a £3.5m 360-degree marketing campaign from mid-March to aid shopper reorientation and recruitment in and out of store.
Aptamil ADVANCED baby and toddler milks still offer the exact same formulation, with the rebrand focused on helping consumers more easily navigate the premium product range, which is Aptamil's most advanced. The range covers all three stages of baby feeding, from birth to toddlerhood:
Aptamil ADVANCED Infant Milk (From birth)
Aptamil ADVANCED Follow-On Milk (From 6 months)
Aptamil ADVANCED Toddler Milk (From 1 year)
The brand relaunch has also been used as an opportunity to introduce packaging built with sustainability in mind into the Aptamil ADVANCED range. The powder format comes in 800g tins which are recyclable and contain 50% less plastic than the previous packaging. The tins also have a triple safety seal to ensure product freshness and safety.
Sarah Cumming, Danone marketing director, commented: "As a business, we're always listening to parents and other caregivers to draw insights to enhance and evolve our products to ensure they continue to meet their needs. Rebranding our most advanced* formulation as just that, Aptamil ADVANCED Follow On Milk and Toddler Milk, simplifies the purchasing decision when consumers are selecting which formula to put in their basket instore or online – it now literally does what it says on the tin! We hope the new name will make our premium range that bit more accessible to new and existing buyers."