Drinks company Mike's is launching a trio of alcoholic sparkling waters into UK stores this month.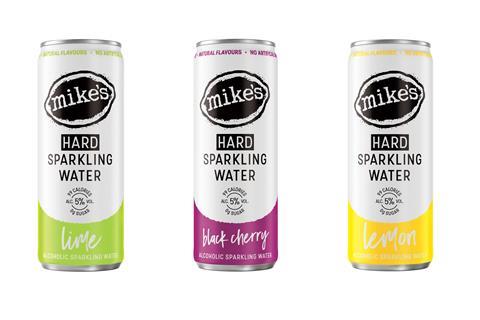 Sold in 330ml cans with an abv of 5%, the hard sparkling range is designed to tap into growth in the alcohol-based RTD (ready-to-drink) category.
Made with natural flavours, 0g of sugar, no artificial sweeteners and 99 calories per can, the Mike's sparkling water comes in lemon; lime; and black cherry flavours.
All variants feature a sleek pack design aimed at encourage trial amongst millennial audiences, who may be looking for a low-calorie drink to enjoy as part of a balanced lifestyle.
Ana De La Guardia, general manager at Mike's (ZX Ventures Lab), said: "We're so excited to launch Mike's hard sparkling water here in the UK. We've seen how quickly the alcoholic sparkling water market has grown in the US and we believe now is the time to bring the trend to the UK.
"Brits are leading healthier lives and as such there is a demand for an alcoholic drink with natural flavours that is low sugar, low calorie and low abv, but retailers aren't currently equipped to offer these options. It's important for us to provide our customers with products that not only directly respond to consumer needs to drive sales – but most importantly, taste good."
Available to convenience retailers, Mike's hard sparkling water comes in three formats: rrp £1.99 (single); rrp £6.50 (four-pack / single flavour); and rrp £9 (six-pack / variety).