Wine continues to hold plenty of promise if you offer a range of price points, with enticing promotions at one end and premium at the other.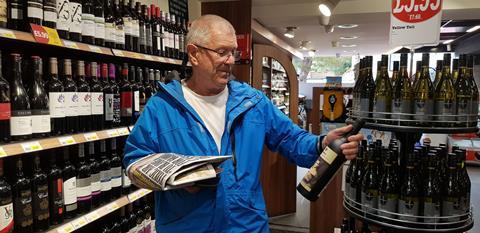 Don't believe what you might have heard on the retail grapevine. Although vino volume might be down slightly overall, there's still plenty of reasons to toast the category.
For a start, beer, wines and spirits (BWS) still holds its own as one of the top performing categories in the convenience sector, pulling in £3.7bn overall. And wine is a massive part of that top tippling trio, raking in almost a third of the total, a not-to-be-spat-out £1.2bn (Nielsen Context Report, 52 w/e 26 January 2019).
So why does it do so well in-store? Well, for a start because c-store retailers don't have to worry too much about sales migrating online, or the rise of the discounters as wine destinations. Instead, they can concentrate on what works: being the top local choice for customers when everywhere else is shut, so it's always wine o'clock.
According to Mintel, many of the sales that used to go through traditional off licences or the posh wine merchants now go through c-stores and an impressive one in five wine-seeking types are going local.
And even better, it's the big-spending under-45s who fetch up in your wine section, where they're likely to pick up complementary products, too.
"BWS is one place that retailers can really win by becoming like the good old-fashioned off licence," says Guy Warner, who owns a number of Warner's Budgens stores across Gloucestershire, Warwickshire and Worcestershire. "The margins are good, and there are loads of things that we can do with it. And with the hours we're open you can pick up lots of customers by having a decent wine offer. To be honest, if you can't make a go of BWS then you probably shouldn't be in convenience at all!"
Let's begin with the basics. Guy reckons that you should kick-start your sales by going in hard on promotions. They're the ideal lure, catching the customer's eye and reeling them in to buy.
"When you start to look at it, most wine is still sold on promotion in convenience," says Guy.
"In the £5-£7 area people are looking for an offer or a multibuy. To keep up with demand you have to maintain a decent promo offer at all times. Then behind that you have to have wines with a price point for everyone, from £6 bottles to something more special."
Sam Coldbeck, who owns Wharfedale Premier in Hull, agrees that the right price spectrum is essential. "Our customers are constantly looking at the price, whatever we stock," she says, "so you have to have the right promotions on. If you go in too high then bottles just won't sell."
However, overall promos have matured along with the category. Today's offers present the potential to ape the upmarket Waitrose model of discounts on selected wines and creating interest through limited-edition bottles.
"It really has moved on from a few years ago," says Richard Inglis, owner of several Co-op Welcome stores in Southampton.
"People used to come in and want a standard bottle of white wine for the cheapest price possible. Today I think they're willing to be a bit more indulgent.
"So we do promotions, but they tend to be a percentage off a single bottle. Gone are the bad old days of 'two for a fiver' on wine. We do limited-edition bottles that sell really well, too. People are looking for something different. They know what they like, but are willing to try something new, too, if you present it to them correctly."
Once the promos are sorted it's vital to get the total range right. Whichever way you look at it, the wine category is vast, spanning whole continents, yet customers expect a broad off licence-style selection even in smaller stores.
"Wine is massively important to us as a store – which is reflected in our stock," says Richard.
"Just look at the space we give over to it. We have chiller space divided into white, rosé and sparkling wine. Then we've got red wine in wooden crates. And that's much more space than we give over to beer, spirits and cider. It's a bold selection that appeals to everybody.
"We have three facings for each type. I think that anything less gets totally lost in the display. We do everything from Chardonnay to Merlot to good old Lambrini."
It's one thing to stock almost everything, but what might be missing right now for retailers is the blockbuster bottle that customers can't get enough of.
Ask any retailer and they'll tell you that the real excitement in BWS at the moment is around artisan gins and craft beers. And while prosecco used to be the big seller in c-stores, there's growing evidence on the shop floor that sales might be losing their fizz.
"To be honest, I feel the bubble is about to burst on prosecco," sighs Guy. "Don't get me wrong, it's still a big seller for us, but I get the feeling that it's starting to get done to death. These trends tend to go in cycles. It's like chardonnay in the 90s, it was absolutely everywhere and then it disappeared when people got sick of it, but it'll come back around again later.
"I think the quality starts to dip when things get too popular. The manufacturers get obsessed with making it at the lowest possible price on the shelves, and that can harm its reputation."
Richard is a little more effervescent about prosecco, though. "We actually sell a lot of prosecco still," he counters.
"It's our top seller in sparkling wine and comes in well ahead of cava at number two. On the other hand, we only sold five bottles of Champagne last week. That may not sound good, but it's £172 so I'm really not complaining.
"Overall things like craft gin are great to create a bit of interest, but they don't touch wine in terms of sales and profit."
Get into the spirit with wine blends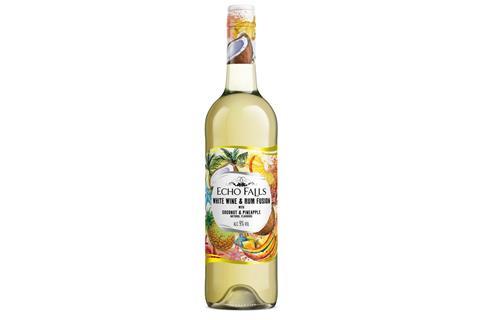 Accolade Wines is looking to capitalise on the excitement around rum with a new wine fusion drink which is expected to attract new consumers to the category.
Echo Falls White Wine & Coconut Rum Fusion (9% abv) is a blend of Echo Falls white wine, rum, coconut and pineapple.
The new variant follows hot on the heels of the brand's Rosé Wine Gin fusion, which launched in March. The latter comprises a blend of rosé wine, gin and summer fruit flavours, and also has a 9% abv.
Accolade Wines marketing director David White says: "Echo Falls is once again bringing a refreshing and innovative flavour experience to the market, with strong consumer appeal and a new and exciting sales opportunity for the trade ahead of the summer.
"This is a unique product for people who like the idea of wine, but who prefer a sweeter style and easy drinking experience."
White adds: "We recommend that retailers stock up on these new trend-led products such as Echo Falls White Wine and Coconut Rum Fusion, along with Echo Falls Rosé Wine and Gin Fusion, as they are perfect for encouraging impulse or convenience purchase from consumers who will drink soon after buying."
Echo Falls White Wine & Coconut Rum comes in 75cl bottles (rrp £6) and is available to convenience retailers through listings with Bestway.
Shine on
Wine really shines when the sun comes out, and lighter wines have instant appeal, points out Andy Shutler, Costcutter supermarkets group category director for BWS & Tobacco. He says that the symbol group is getting behind rosé for the summer, and that prosecco is still worth investing in.
"In terms of winners for the summer, while the market has seen a slowdown in prosecco sales our sales are bucking the trend and continuing to grow at a rapid rate," he says. "We also don't foresee the nation's thirst for rosé wines declining any time soon, so we'll be backing this with a range of French and New World wines."
As Guy points out, trends in BWS are in constant churn. Who knows, maybe next year craft beer will be pushed aside for artisan wine? Until then, he says that the key to conjuring some pizazz in the category is picking a few smaller producers to go alongside the mainstream wines. This can pay dividends at the upper end of the scale.
"Wine is really a couple of different categories," he says. "You have the sub-£7 bottles and then the rest. At the moment wine is slightly fighting gins and beers in BWS, just because they're a bit trendier.
"I think that the £8-plus wines are where the grass roots interest is at the moment."
Guy says that north of the £8 pricepoint his stores can flex to "be a bit more of a fine wine supplier". This means embracing a price spectrum going right up to £50 a bottle, which he supports with tasting notes and attractive displays to highlight premium quality.
This equates to a hit on volume, but more excitement on the shelves and the opportunity to become a wine destination. Let's all drink to that.
Suppliers with a can-do attitude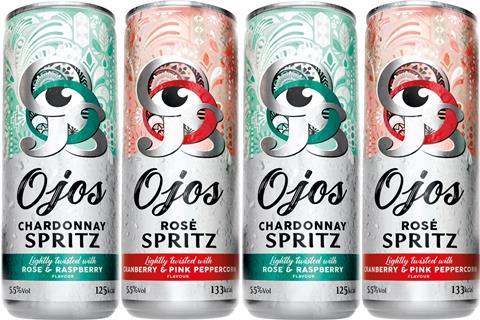 From Fleabag courting her Sexy Priest with 'gin in a tin', to Diane Abbott enjoying an on-train Mojito, canned alcohol has never had a higher profile. So where does wine fit in?
Ben Smith from Concha Y Toro says that it's definitely a growing c-store format.
"Wine drinks in cans is a strongly growing movement," he says. "We have recently launched O'jos (which means 'eyes' in Spanish), which is a range of wine spritzer drinks in cans. O'jos has been developed in response to a lot of consumer research. Shoppers told us they wanted lighter-style drinks, with interesting flavours, and our two O'jos cans answer that – both are only 5.5% alcohol, with natural flavours added to quality Chilean wine."
The O'jos drinks are available in a selection of wholesalers, including AF Blakemore, Dhamecha, and Bestway. The launch is being supported with PR and sampling activity.
Also getting in on the action are Barefoot Pinot Grigio and Barefoot White Zinfandel, which are both now available in a 250ml can format (rrp £2.50).
E&J Gallo Winery sales director Mark Stammers says: "We know that consumers are leaving the wine category during certain drinking occasions such as picnics and BBQs because few easy alternatives for ideal packaging exist in wine.
"Barefoot cans will provide the perfect solution as they are convenient, widely recyclable, easy to chill and open, removing the need for a glass. What's more, the cans can't smash, which is another great benefit when it comes to consumers packing their picnic bags or festival kits."
The products are available in Bestway and are due to roll out across the independent channel.