Accolade Wines is investing £1m in a multi-brand Christmas campaign titled 'It's Treating Season'.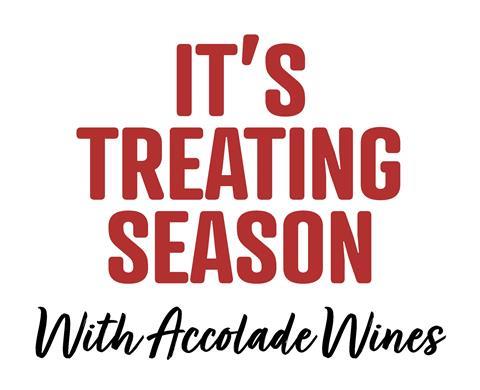 Rolling out across the company's best-selling wines and spirits, as well as seasonal favourite Stones Ginger Wine, the activity includes the launch of on-product creatives designed to encourage consumers to spend during the festive period.
Branded gift bags will also hit retailer shelves this month to capture the gifting market, which is particularly important to wine sales at Christmas.
Paul Hillier, head of trade marketing for Accolade Wines, said: "Retailers can depend on Accolade Wines to drive their wine sales over the all-important Christmas trading period when consumers are looking for brands they can trust.
"With a stand-out portfolio of wines, including Hardys, Mud House, Kumala and Echo Falls, we can provide the retail trade with wines that will drive their sales when consumers are entertaining or gifting."
Ade McKeon, regional managing director for Europe at Accolade Wines, added: 'We are committed to bringing the trade a one-stop shop of best-selling brands that are supported at point of sale to drive purchase and repeat sales over the festive period.
"We are confident that our Christmas 'It's Treating Season' campaign across our top-performing brands, will connect with consumers when they are buying their Christmas wines, impulse purchasing and gifting for family, friends or thank you presents. All our insight shows that consumers are looking for brands they can trust, particularly at Christmas, and our portfolio gives shoppers the confidence to buy where they see it stocked."
Accolade Wines' 'It's Treating Season' campaign will run from October to December 2019 across the independent trade.