Make sure you're ready for this year's fright fest with our guide to Halloween.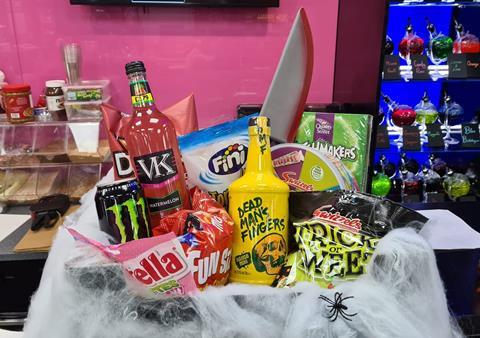 1. 2020 saw freakishly good Halloween sales in convenience, up 12% YOY
In 2020, Halloween-related sales in the convenience channel saw an approx. 12% YOY increase – primarily driven by the pandemic driving consumers into various other shopping channels outside of just the traditional mults sector, states wholesale data analysis company SalesOut.
"The 'traditional' categories of Chocolate & Sweets (+75%) and Cakes (+26%) from a food perspective drove the majority of growth seen in 2020 vs 2019," says a company spokesperson. "Decorations & Accessories also saw a significant jump YOY within convenience last year of +50%."
The firm predicts that sales will drop in 2021 as consumers return to supermarkets. "What we would expect to see happen this year vs last year is a YOY decline in overall convenience sales as many consumers now 'settle back' into more traditional shopping habits i.e. a move back to the Mults."
Covid restrictions stopped Greater Manchester retailer Mos Patel from holding an in-store party last year, but he still ensured a fiendishly good atmosphere. "Last Halloween we weren't allowed to have an official event, but we had characters in-store and we gave mini chocolate bars and sweets to the kids," he says. He also ran a Halloween raffle with prizes including Dead Man's Fingers rum and Swizzels Trick or Treat sweets, which helped to build excitement, and also showed customers what products were available.
Sales over the season were strong. "There was a 12% uplift on BWS on the weekend of Halloween - we're always well stocked on that," he says. "And we always sell out of sweets." He accepts that some trade may be lost to supermarkets and bars reopening this year, but is still hoping for decent sales.
Rav Garcha, who owns four stores in the West Midlands, agrees that demand was high last Halloween, but is frustrated that he was unable to take advantage due to supply delays. "It was ok last year," he says. "Stock didn't come in as early as we needed it, it was too close [to the event]. We just got pumpkins really late, so we didn't make the most of it. The way it went you were grateful to get anything.
"The demand was higher because people wanted those things locally. I'm disappointed we didn't execute as well as we could have, but on the flipside we did better than before."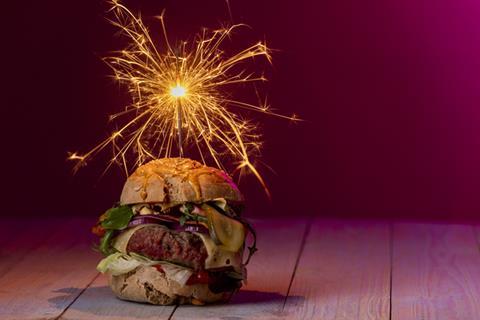 2. Covid concerns will mean more outdoor gatherings and winter BBQs
Consumers will opt for outdoor celebrations and winter BBQs over Halloween and Bonfire Night to reduce the spread of covid, according to St Pierre Groupe, which claims that burger buns and hot dog rolls sales jumped 25% last season.
"In the two weeks covering the Halloween and Bonfire Night period in 2020, we saw total burger buns and hot dog rolls sales jump from £925,000 to £1.16m – so clearly there is opportunity in this occasion for retailers," says founder Paul Baker, adding that in the same period, St Pierre and Baker Street lines in the sector increased 26% compared to the previous two weeks.
"Whilst there was a marked decline in Halloween parties and get-togethers last year, they still happened," he claims. "However, they took place with new considerations in play. Any gatherings last year took place outdoors – and are likely to this year, too. Winter BBQs are a growing trend and entertaining outdoors calls for different types of food. Guests need to be able to eat handheld items, but hosts don't want to compromise on flavour.
"Multi-pack, multi-use products that stay fresher for longer will appeal to hosts who are looking to stock up but don't want to waste food if the party is rained off. Equally, retailers can stock up ahead of such events and know that they won't waste stock if there's a change in restrictions or plans."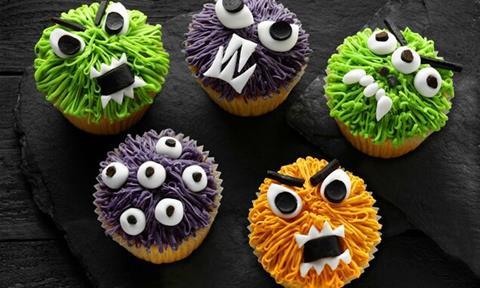 3. Home baking sales are predicted to be 10% up on 2019
In 2019, Halloween home baking was worth £1.6m with a value growth of +5% vs previous year (IRI 4we 7th November 2020 & 4we 9th November 2019 Value sales, total convenience). "In 2020, Halloween for the channel was worth around £2.1m and saw a huge value growth of +31% vs the previous year as many families used Halloween as an at-home occasion," claims Jen Brown, head of marketing – cake, Dr. Oetker Baking.
Although 2021 home baking sales are not expected to top 2020, when high social restrictions were in place, the firm is forecasting that total value sales will still be significantly stronger than in 2019, provided that there are no further restrictions or impacts due to covid. The company predicts total sales will be down 18% vs 2020, but up 10% vs 2019. "These figures are based on the period of decline over summer and that we expect new & frequent bakers to return - as 48% of new bakers over covid say they will continue to bake."
Top Halloween performers include seasonal mixes, such as ghost cupcakes and seasonal décor such as cobweb and pumpkin sugar placements, claims the firm. "We also see other decorations over indexing particularly colours such as black, orange and purple, decorating icing and modelling icing, mini marshmallows and non-edible decorations such as cupcake cases," notes Brown. "Halloween themed recipes and in store events and theatre will remain a key part of home baking inspiration. Offering extra range to decorate bakes and making it easier for bakers will be key to upweighting baskets throughout the season. To further optimise displays, ensuring all seasonal products are sat together on fixture or on end will make it as easy as possible for the consumer to shop for the event. Also, giving the Halloween seasonal products dedicated on end feature space will make it easier for shoppers to upweight their baskets."
ADVERTISEMENT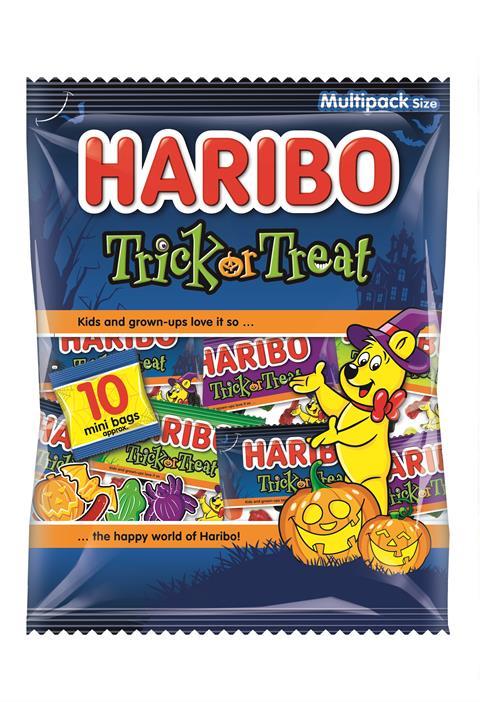 Count on & countdown with Haribo this Halloween
As the number one sweets manufacturer, with a 46.8 per cent share of Halloween leveraged sweets1, Haribo will return several seasonal lines to stores this year.
Delivering value and volume, two of the most popular attributes when purchasing Halloween confectionery, is Haribo Trick or Treat mini multipacks. Containing a spell-binding mix of sweets, here you will find bats, broomsticks, frogs and spider-shaped pieces.
Brewed up in a 160g multipack containing ten mini bags (rrp £1), they're perfect, pre-portioned and petrifying!
1 IRI Marketplace Sweets, Value Sales, Total Halloween Event + Multipack Minis Pack Format, 4 weeks ending 1/11/20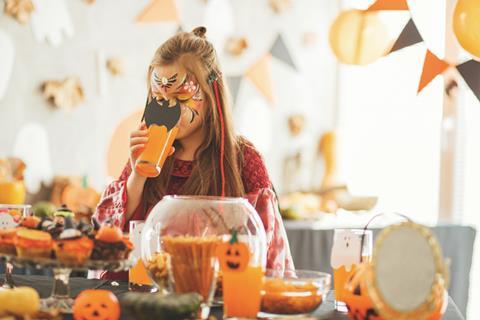 4. Soft drinks value grew ahead of pumpkins and sugar confectionery last Halloween
"Soft drinks is one of the fastest-growing categories at Halloween, growing in value ahead of traditional seasonal favourites such as pumpkins, sugar confectionery and bakery products [Kantar | FMCG Panel | Take Home | Halloween Sub-Categories Value Chg % Halloween 20 vs. 19 2W 1st Nov 2020]," claims Amy Burgess, senior trade communications manager at Coca-Cola Europacific Partners (CCEP).
Flavoured carbonates performed especially well, enjoying an extra £5.5m in sales last season (Nielsen Total GB flavoured carbs value growth Halloween 20 vs 19) and contributing 11.5% of total growth within soft drinks (Nielsen Scantrack Data w/e 31.10.2020, Halloween = latest 4 weeks, Total GB Flavoured Carbs Value Growth Halloween 20 vs 19), claims the firm. Burgess notes that Fanta in particular is a popular choice with last year's Halloween campaign delivering a 6.5% value increase in Fanta sales in the four weeks to Halloween (Nielsen Scantrack Data w/e 31.10.2020, Total GB I Halloween 20 vs 19. Halloween = latest 4 weeks). This year, Fanta has revealed ghoulish on-pack graphics and an on-pack promotion, supported by a multi-million-pound marketing campaign. LINK
Soft drinks and confectionery are the biggest profit drivers at Halloween (IGD Shopper Vista, Halloween Shopping), states Barr Soft Drinks, claiming that shoppers stock up on take-home packs of soft drinks for parties and smaller formats to hand out to trick or treaters. "One in three shoppers buy soft drinks at Halloween [Platypus Research], so this is a key category focus for retailers, presenting a real opportunity to boost incremental sales," says marketing director Adrian Troy.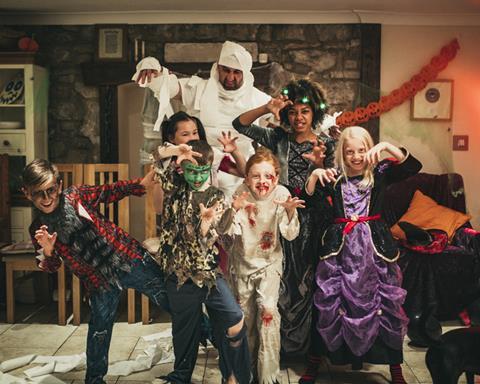 5. Halloween 2021 falls on a weekend, offering an extra reason for consumers to celebrate
"Halloween 2021 falls on a weekend, so it is set to be a spooktacular, Sunday celebration, especially following the frightful experience that we all had during the lockdowns in 2020!" says Claire James, trade marketing manager at Haribo.
Continental Wine and Food Ltd. supports this view. "With the festivity falling on the weekend, there will be events planned all weekend, and millions of people organising and preparing in advance to ensure they purchase all they need to fuel these events," says marketing assistant Caitlin Barker. "From the sweets and snacks to the drinks and decoration, they want to have it all covered." The firm hopes consumers will want to get their fangs into its new Moonlight Red wine.
Hancocks claims that In-store theatre is vital to help get consumers into the Halloween spirit.
"This year we want to encourage multiple item sales to make up for not being able to celebrate the season properly last year and ensure that customers go all out for their spooky celebrations," says Smith. "Promoting the products is very important. Retailers should aim to have themed shelving and displays as this will encourage shoppers to purchase impulse lines like the Bonds of London mallow pops.
"Themed displays support the spooky visuals and artwork across our packaging so helps to entice the customer in to have a look at everything that we are offering through the retailer which translates into more sales!"
Mos always goes big on in-store theatre. "Last Halloween we had moving statues of vampires, witches and the grim reaper," he says. "They cost about £700-£800. We pick a new one up every year, we have four or five now. The kids love it and a lot of people take selfies with them. We don't put them outside because the kids will nick them!"
This year, he is toying with the idea of an even bigger celebration. "We were going to do a Halloween party with an entry fee and have a DJ with a bouncy castle, drinks, burgers and fries for a set price and [people dressed as] Disney characters in Halloween costumes. I'm in two minds what to do because it takes a lot to organise and we don't know what's going to happen."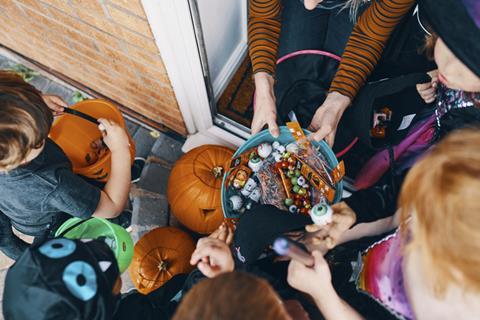 6. Total confectionery sales expected to grow as consumers return to trick or treating
Haribo is confident that confectionery sales will boom in 2021. "We expect this year to be bigger, better and more inclusive than ever with a return to growth for Halloween confectionery," says James. "Last year was very much 'stick and treat'. Here parties and 'at home' activities prevailed and trick or treating quietened with so many people in lockdown. But normality should resume this year, with some important hygiene considerations that will support purchase decisions and sales."
The company claims that individually wrapped products provide protection and allow people to adhere to strict hygiene measures, while also supporting portion control. Haribo has a 46.8 per cent share of Halloween leveraged sweets (IRI Marketplace Sweets, Value Sales, Total Halloween Event + Multipack Minis Pack Format, 4 weeks ending 1/11/20), and will return several seasonal lines to stores this year. LINK
Hancocks is also predicting big things for 2021. "Trick or treating never really happened last year due to COVID," says Chris Smith, marketing communications manager at Hancocks. "Cases were spiking and parents weren't keen on sending their kids out to knock on peoples doors at this time of the year and who could blame them.
"After missing out on a year, we're expecting that more children will be taking part in trick or treating in 2021 so retailers should focus on ensuring they have enough of the products that are set to be in high demand for this."
Mark Walker, sales director at Swizzels, adds: "Halloween is the biggest calendar event for sugar confectionery, and it's set to be huge for 2021 as consumers look to make up for last year's lack of celebrations – so it's essential to stock a range of best-selling, well known brands to entice shoppers and make the most of the festivities."
Mondelēz International advises retailers to take advantage of the full return of the season this year. "Over Halloween, shoppers will look to embrace returning to the rituals missed during last year's spooky season, such as buying products for trick or treating or for hosting a family Halloween party," says trade communications manager Susan Nash. "Confectionery will be the must-have category of Halloween 2021, with this year seeing the return of the popular Cadbury Goo Heads." LINK
Individually wrapped sweets were a hit for Rav last year. "Pre-packed sweets in multipacks sold well," he says. "We didn't do too much Haribo, but we sold big bags of Mars treat size products."
Mos also reports good sales of chocolate and sweet multipacks. "We sold 50 packs of Lollies - confectionery always sells well at that time," he says. "There was less trick or treating than normal and some stores didn't stock up as much, but we did and they sold out."