After a turbulent year, 2021 holds opportunities for both single and take home formats in the crisp and savoury snack category.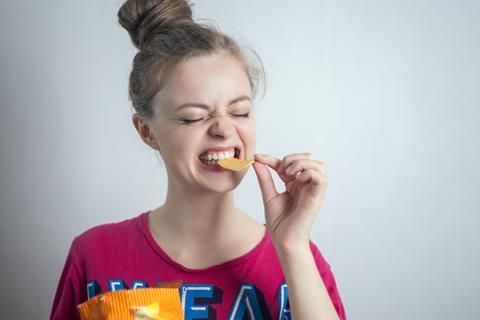 1. Crisps & Snacks attracted over 150,000 extra buyers in convenience in 2020
"Looking at convenience specifically, the crisps and snacks category is worth £975m [Nielsen FY 2020], having attracted over 150,000 additional buyers in 2020 [Kantar WPO MAT to 24.01.2021 - Penetration increased by 0.5% to 9.4% - this equates to around 166,000 additional buyers]," says Scott Snell, vice president of customer at Pladis UK & Ireland.
Fine food distributor Cotswold Fayre reports that snacks are one of the fastest selling categories, up 33% YoY and accounting for 10% of total ambient sales. Convenience store sales currently account for 10% of the distributor's sales, having increased 38% YoY. "Pipers Crisps sales are up 76%, while Manomosa corn chips have seen a 39% increase in convenience sales in 2020 vs 2019," says chief executive Paul Hargreaves.
There were 31% more snacking occasions in 2020, according to KP Snacks, which claims that crisps have been the most popular snack since lockdown. The firm launched a 'Win £2021' on-pack promotion, which gives shoppers the chance to 'win the year in cash' earlier this month.
PepsiCo also reported positive category figures. "The crisps, snacks and nuts segment has grown by +5.3% [Nielsen Value Sales Symbols and Indies YTD, WE 26.12.20], with much of this growth driven by demand for larger pack crisps and snacks formats within the channel," says Impulse Category Management Channel Lead Guy Harvey. "To help retailers maximise their crisps and snacks sales, we've updated our core range of bestsellers (our HERO 25 range), to include a number of RRP PMP, singles, multipacks, sharing format products that cover the different shopper missions we're seeing in the channel."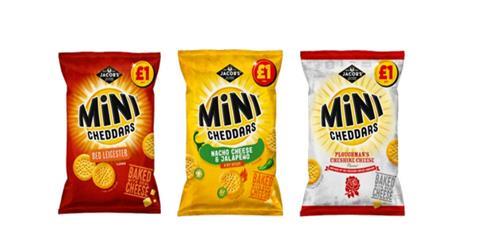 2. £1 PMP snacks are growing three times faster than the market in indies & symbols
Tayto Group claims that pricemarked packs (PMPs) are powering ahead in indies and symbols. "£1 PMP Snacks are growing three times faster than the market and now account for nearly 40% of Snacks [IRI Market Place,GB Symbols & Independents, Value, MAT to 06/09/20]," says marketing director Matt Smith. In April, the firm launched £1 PMP bags of Cheese & Onion Transform-A-Snack and Sour Cream & Onion Ringos.
Value for money is becoming increasingly important for shoppers, which has seen PMPs flourish, according to PepsiCo. "This desire for value impacted RRP PMPs which were the number one contributor to crisps and snacks segment growth last year, growing +16.3% [Nielsen Indies & Symbols data 2020 WE 26.12.2020]," says Harvey. "To help symbol and independent retailers offer greater value to shoppers, we're adding +20% Extra Free to many of our bestselling £1 RRP PMPs snacks."
PMPs continue to drive growth in the convenience channel, adds Snell. "In fact, although only 12% of SKUs in convenience stores are PMPs, they represent three-quarters of sales in the channel [Nielsen Independents MAT to 11.07.2020]," he says. This year, the firm has released £1 PMP versions of Jacob's Mini Cheddars in Red Leicester, Nacho Cheese & Jalapeno and Ploughman's Cheshire Cheese. The brand is worth £17.2m in convenience [Nielsen FY 2020].
Sukhi Khunkhun of One Stop Woodcross Convenience Store in Bilston, Wolverhampton, claims that "you very rarely get pricemarked stuff in One Stop", but that she currently has the new PMP Mini Cheddars because her husband, Serge, is an ambassador for the company. She also stocks £1 PMP Quavers, Skips, Squares, Monster Munch, Wotsits and Nik Naks.
£1 PMP is becoming a huge part of the CSN category, claims Ilan Arkin, marketing controller at KP Snacks. "It's showing faster growth than we would have anticipated," he says.
The firm has added a host of new lines to its PMP, including KP Thai Chilli Peanuts, Discos, and McCoys Fire Pit BBQ Rib and Peri Peri. The company claims its £1 PMPs are growing faster than the market at +18%.
£1 PMPs are a winner for West Midlands-based Amrit Mann of Mann News in Halesowen. "We always sold smaller 32g pricemarked packs, but now we've started doing 60g bags pricemarked at £1, they are our bestsellers," she says.
ADVERTISEMENT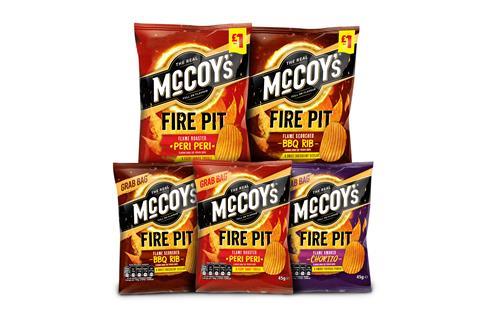 A red hot opportunity from McCoy's
McCoy's, the UK's number one ridged crisp brand, is delivering its full-on flavour mission with McCoy's Fire Pit, a new range inspired by "wood fired" cooking. McCoy's Fire Pit takes BBQ flavours to the next level with three sizzling flavours, Flame Roasted Peri Peri, Flame Smoked Chorizo, and Flame Scorched BBQ Rib. With McCoy's unmistakable boldness, the new range has a flavour and spice level to suit all tastes.
McCoy's is perfectly placed to reignite formats and drive category growth by delivering variety and excitement. The new range is available in Multipack at an RRP of £1.70, a 45g Grab Bag format with an RRP of £0.90, and a 62.5g £1 PMP format.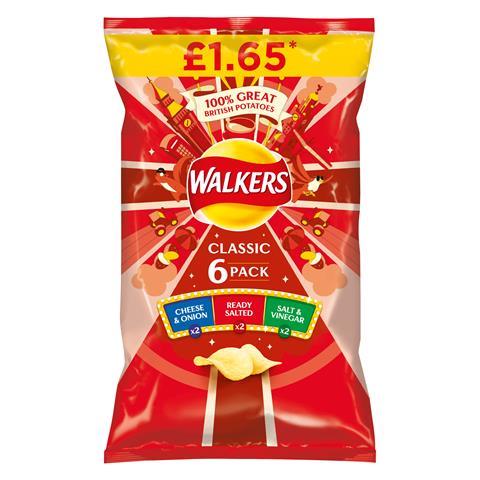 3. Multipacks grew over 15% in indies and symbols last year
With people spending more time at home, PepsiCo claims that take-home missions have become far more important within symbols and independents, currently accounting for 60% of shopper missions (Kantar World Panel missions, Symbols and Independents, Value share, Feb 2021). "We saw this trend growing even before lockdown, but Covid-19 has helped to accelerate the growth of take-home products," says Harvey. "We've seen multipacks grow by +15.6% (Nielsen Indies & Symbols data 2020 WE 26.12.2020)." For the first time, Walkers Classic Variety and Quavers Cheese 6-packs feature a pricemarked flash.
One Stop Woodcross has an array of multipacks on promotion. "We sell 14 different brands of 6-packs and we have big 12-packs on promotion at £2.50," says Sukhi. "Then the promotion will change and 24-packs will be £3.
"We sell a heck of a lot of multipacks. Value is important - big time. People are looking at what will be most cost effective. I have customers who come in for two multipacks a week."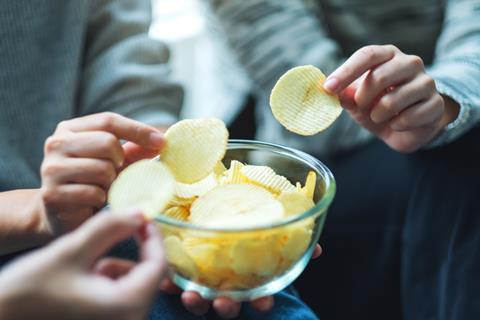 4. Bigger bag sharing products are growing at +16.42% in symbols & indies
PepsiCo claims that bigger bag sharing products have seen growth of +16.42% (Nielsen Symbols and Independents, Value Sales 2019 to 2020 we.02.01.2021). "We expect this to continue as restrictions ease through the UK and people are allowed to gather in greater numbers together," says Harvey. The firm has launched larger Doritos and Walkers Sensations PMP sharing bags with an RRP of £2, having increased in size by 20g.
Sharing grew to around 50% of the category, states KP Snacks. "We saw an increase in in-home occasions, the net result being that this pushed category growth," says Derek Baker, impulse category lead. Its Popchips sharing formats are up +16.8% YTD (Nielsen Scantrack 27.03.21), while Tyrells sharing is up 21.2%.
Envis Snacks concurs that bigger bags will remain popular over the summer, even as people spend more time out of home. "With lockdown restrictions being lifted there will still be lots of opportunities for c-stores to capture sales as consumers may still be reluctant to mix indoors and therefore there could be a lot more 'picnic type' opportunities that will take the place of big nights in with consumers still looking for c-stores to provide 'take home' solutions," says sales director and general manager Andy Brown. "This could lead to further increase in not just £1 ranges but also larger value retail packs for example Crunchips X-cut 150g Chilli & Lime."
Cotswold Fayre has witnessed strong growth in larger bags, with sales of its 340g bags of Xochitl Salted Corn Chips growing 29% in the convenience sector in 2020.
"Even though people are now raring to go out after months of social restrictions, many will also be on a budget due to the economic downturn," says Jon Roberts, brand manager at Indian snacks manufacturer Cofresh. "Therefore value for money and convenient sharing packs - such as our popular Asian Mixes and potato-based Grills - will also be key to at-home snacking success."
ADVERTISEMENT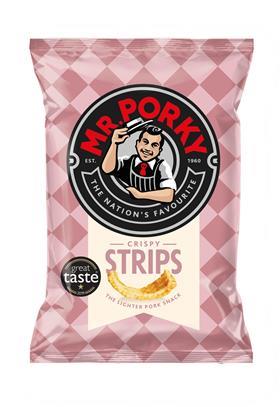 The lighter scratching that doesn't compromise on delicious porky flavour
With pork snacks being the fastest growing category in savoury snacks1, the No 1 brand - Mr Porky - is looking to drive further growth through Mr Porky Crispy Strips.
Pork scratchings have been voted Britain's favourite pub snack2 but traditional scratchings can be a bit 'hardcore' for some. Crispy Strips is the perfect solution offering a lighter bite but without compromising on the rich, porky flavour for which the brand is famous. With a crunch and flavour similar to crispy bacon rind, they are a perfect everyday treat.
With pub closures, consumers have been creating the pub experience at home. Retailers can capture incremental, VAT-free sales by merchandising pork snacks with BWS. Tayto have made this easy, as the whole Mr Porky range is available on clipstrips.
When it comes to incremental snack profits - there is simply no matching a scratching!
1. IRI Market Place | Total GB | Total Crisps, Snacks & Popcorn | Value | MAT to 27/12/20
2. https://www.dailymail.co.uk/news/article-9374575/Get-crackling-Pork-scratchings-named-favourite-pub-snack.html
5. The singles category is set to bounce back after sales dropped -24% in 2020
"Within the food to go area we've had significant challenges across the last year, losing £125m worth of sales (-24%)," says KP Snacks marketing controller Ilan Arkin. "But there's a real opportunity to reinvigorate this.
"Food to go is a huge opportunity to recover. There are green shoots, certainly in the last few weeks as people are exiting lockdown. Within that space, 45% of shoppers are not planning to bring a lunchbox to work, so that presents an opportunity to really kickstart this sector." KP has a 27.4% singles market share. Arkin highlights that core lines represent 97% of singles, with NPD making up just 3%, versus a 12% NPD share of sharing crisps and snacks.
Meal deals featuring crisps are already performing well at One Stop Woodcross. "We do a £3 meal deal with a sandwich, snack and drink and the crisps fly out," says Sukhi.
Harvey agrees that single sales are set to recover. "Retailers will need to keep an eye on smaller single serve formats which we expect to start to 'bounce back' as restrictions ease through the UK and people are allowed to gather in greater numbers together," he says.
Pladis' Snell is equally confident. "We expect plenty of consumers to take advantage of their newfound freedom, which will result in a resurgence for on-the-go formats," he says. "Whether people are commuting to work or meeting with friends – they'll be grabbing their favourite snacks to fuel their journeys. We'd advise retailers to stock-up on grab bags – such as Jacob's Twiglets – as these will be key to driving impulse sales during the summer months."
Cofresh's Roberts agrees that single packs shouldn't be overlooked. "We fully expect to see significant recovery as restrictions ease and people return to work and start being out & about again," he says. "They encourage spontaneous purchase and can be combined with meal deals to capitalise on the 'to go' shoppers."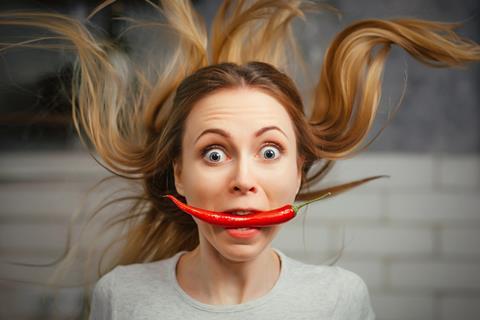 6. Spicy is the fastest growing flavour in the UK
While it's important to stock a selection of classic favourites, PepsiCo claims that 'Spicy' has become the fastest-growing flavour in the UK at +13% (Nielsen Data, Total Coverage, L2YR %chg w/e 26.12.20, Spicy Flavour Bucket), while demand for retro flavours (such as Quavers Prawn Cocktail and Salt & Vinegar) has also come to the fore. The firm recently brought back limited edition Quavers Prawn Cocktail and Salt & Vinegar. "Quavers Prawn Cocktail RRP PMP was the number 1 bestseller in £1 RRP PMP over the last 12 weeks [Nielsen, Symbols and Indies, Values ROS, L12 weeks we.13.03.21], making it a definite "must-stock" for retailers," says Harvey.
Amrit recently introduced some spicier flavours to her store and has been delighted with the results. "Wotsits Flaming Hot are going very well and Walkers Max Double Crunch KFC Zinger flavour," she says. "People want different flavours, but I can't believe how well the Wotsits are doing."
ADVERTISEMENT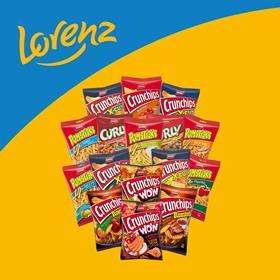 Lorenz lines offer real differential for incremental sales
Lorenz snackworld products have seen sales triple in the last few years and we pride ourselves on providing differentiated products to drive real incremental sales, such as Pomsticks and Curlys, as well as providing choice for our customers through products like Crunchips X-cut and have a wide range of flavours in our portfolio, from Chilli & Lime to Salted as well as a lot of our most popular flavour across brands Paprika.
We are focused on the convenience channels in the UK providing very long shelf life, smaller case sizes and have £1 RSP lines across all our ranges.
We also have larger 150g bags available to offer additional value and have just introduced two new Crunchips WOW lines available in Jalapeno and Cream Cheese and Paprika and Sour Cream that are already getting people's taste buds going and driving great incremental sales opportunities, so ask your local wholesaler or symbol group supplier for more details if you are not already stocking (and if you already are – thank you).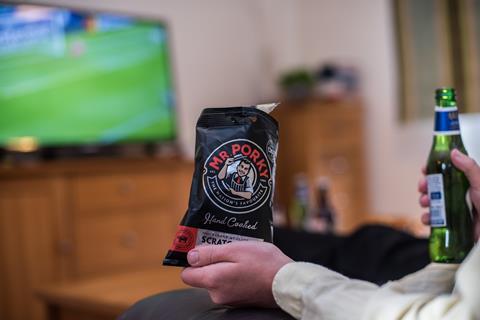 7. Pork snacks were the fastest growing category within crisps, snacks and popcorn in 2020
"Every night has become a 'Big Night In' which has helped pork snacks become the star performer - the fastest growing category (+10.1%) [IRI Market Place | Total GB | Total Crisps, Snacks & Popcorn | Value | MAT to 27/12/20]," states Tayto's Smith. The firm claims that Mr Porky is the number one brand with a 43% market share [IRI Market Place | Total GB | Total Pork Snacks | Value | MAT to 06/09/20] and 2021 saw it invest in the biggest ever advertising campaign for pork scratchings, which was aimed at engaging lapsed consumers. The firm claims that 83% of pork snacks are consumed with a drink (Norstat | 4,009 pork snacks occasions | Jan 20) and urges retailers to boost sales by merchandising 'pub snacks' such as pork scratchings with BWS.