Inspired by wood fired cooking, the new crisps aim to drive lunchtime sales.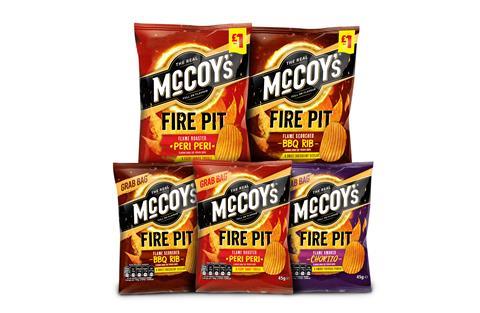 Launching in the first week of January, McCoy's Fire Pit "takes BBQ flavours to the next level", according to KP Snacks. They are available in three formats: multipacks (rrp £1.79), 45g grab bags (rrp 89p), and 62.5g £1 pricemarked packs. All three formats are available in Flame Roasted Peri Peri and Flame Scorched BBQ Ribs flavours, while the multipacks and grab bags also have a Flame Smoked Chorizo variant.
The range will be supported with a £2m multimedia investment, which kicks off in March.
The company claims that bagged snack sales are up 3.4% in independents and 7.1% in symbols, but that certain pack formats have struggled during the pandemic. KP said that single bag sales dropped 32% within the total market during the first lockdown and the firm highlighted its £1 PMP McCoy's Fire Pit bags as a key way for convenience retailers to reinvigorate the market and fire up lunch time sales.
The launch taps into the fastest growing CSN flavours of Spicy (+7.1%), Meaty (+5.8%) and BBQ (+4.5%) (Nielsen Scantrack Tot Covg, value sales MAT 18.04.20) with smoky, chargrilled flavours traditionally associated with cooking meat slowly over an open fire.
Kevin McNair, marketing director of KP Snacks said: "McCoys is one of our most successful brands and a leader in the CSN category, across both singles and multipacks. Flavour is the most important factor in CSN and we are extremely excited to bring something differentiated to the market that capitalises on this trend whilst bringing fun and innovation to the category".
Matt Collins, trading director of KP Snacks added: "With a variety of formats available, the new product range aims to capitalise on the increase in in-home consumption and recent growth of multi-pack sales across all channels whilst supporting the recovery of profitable single sales in the Convenience channel".
McCoy's, is the UK's number one ridged crisp brand, worth £132m, and growing in value +0.7% (Nielsen Scantrack 31.10.20). The brand is delivering +22.5% YTD ahead of the total multipack segment at +5.7% and +53.3% YTD ahead of the total £1 PMPs sharing segment at 15.8% (ibid). It is the no.1 ridged crisp brand and no.1 meal deal choice, purchased by 8m households (Kantar WPO 52 w/e July 2020).