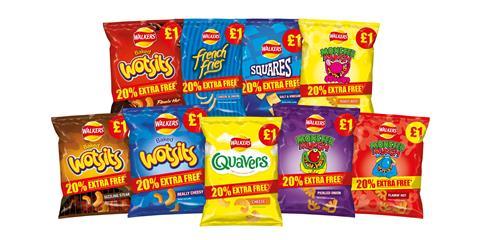 For six months a "20% Extra Free" flash will be included on nine Walkers £1 PMP snack SKUs, including Quavers, Wotsits, Monster Munch, Squares and French Fries.
PepsiCo wholesale trading director Matt Goddard claimed that this was a major opportunity for convenience retailers, noting that over 90% of £1 PMPs were sold in their channel. "Sharing PMPs have been the driving force [in symbols and independents] with 16% growth [Nielsen Indies & Symbols data 2020 WE 26.12.2020], which is over £30m," he told ConvenienceStore.co.uk.
"As we head into 2021 we're heading into recession," he said. "Two thirds of [independent and symbol] shoppers are already being more careful with their money. We're launching this campaign to give our retailers and shoppers more value. It's rare that you see this kind of activity happening in the current climate."
Walkers is supporting the launch with heavyweight shopper marketing alongside social and digital advertising, as well as offering POS kits to help drive visibility of the added value products on shelf. Retailers should speak with their account manager to access materials for in-store and their own social and digital channels, which will help to drive footfall and awareness of the great value on offer.
In recent weeks, the firm has announced a raft of NPD to liven up the crisps and snacks category, including Prawn Cocktail and Salt & Vinegar Quavers. The firm has also updated its merchandising advice to reflect bestsellers and new shopper habits.
The 20% Extra free £1 PMP range comprises:
· Walkers Quavers Cheese 54g RRP £1 PMP
· Walkers French Fries Cheese & Onion 54g RRP £1 PMP
· Walkers Wotsits Cheese 60g RRP £1 PMP
· Walkers Wotsits Flamin Hot 60g RRP £1 PMP
· Walkers Wotsits Steak 48g RRP £1 PMP
· Walkers Monster Munch Pickled Onion 72g RRP £1 PMP
· Walkers Monster Munch Roast Beef 72g RRP £1 PMP
· Walkers Monster Munch Flamin Hot 72g RRP £1 PMP
· Walkers Squares Salt & Vinegar 72g RRP £1 PMP