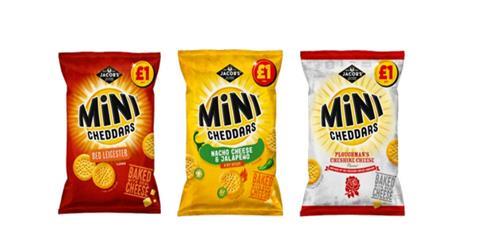 Pladis is expanding the Jacob's Mini Cheddars brand with the launch of price-marked packs (PMPs) for three of its flavours.
Red Leicester, Nacho Cheese & Jalapeno and the newly-launched Ploughman's Cheshire Cheese variant are now available in a 105g sharing pack format with a PMP of £1.00.
"Over the past year, shoppers spent more time indoors and – whether it's a games night or a movie marathon – sharing snacks continue to form an integral part of this, with volume growth up +11.7%," said marketing controller at pladis UK&I Christopher Owen. "As Brits now begin to venture away from their homes and are reunited with friends and family, we expect sharing snacks to remain in high demand.
"We know how important PMPs are for the convenience channel, particularly when it comes to driving impulse sales. In fact, products in this format already represent three quarters of sales in convenience, despite accounting for only 12% of SKUs.
"Couple this with the fact that 91% of shoppers are actively looking to save on groceries – and PMPs are perceived to represent good value for money – and it's clear that PMPs remain a crucial driver of growth in this channel."