Hot beverages offer a huge opportunity for stores to increase footfall and boost basket spend, whether it's to drink now or savour at home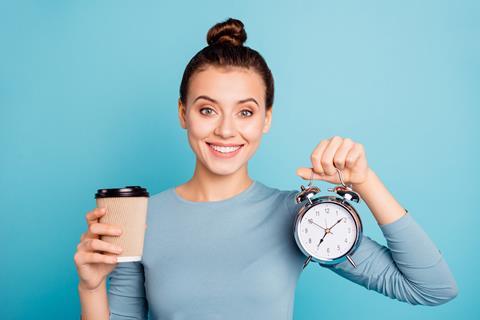 Don't have your in-store hot beverage-to-go solution sorted yet? Then Colm Johnson reckons it's time to make room for a machine.
The Booker md told Convenience Store that his key advice for 2020 was to "introduce a good quality coffee solution as the first step into the food-to-go category. Every convenience retailer should have coffee".
It's sound advice. Right now the UK shows no sign of coming down from its coffee high. Currently four out of five UK consumers drink coffee regularly (Mintel 2019) and collectively we consumed a massive 95 million cups a day in 2018, according to the British Coffee Association.
Plus, with promises of higher footfall and bigger basket spend, providing coffee looks like it might be a cinch. So if you're still waiting to get into the category, it's a case of better latte than never.
Over at Londis Yealmpton, Leanne Dixon relies on a Tchibo coffee machine to get her regular customers' motors running first thing in the morning at her forecourt store. She reckons that today every customer is a coffee connoisseur, so it's worth investing in a quality cuppa.
"I really like the taste of the Tchibo coffee and so do our customers," she says. "People really know the difference between the different types of coffee these days and I think they'll be loyal to what they like.
"They basically want good quality. It's just a bit smoother and less bitter than some of the other brands out there on the market."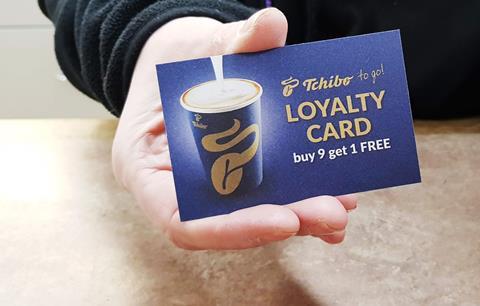 She adds that the coffee helps make her store a regional destination. With minimal advertising she's managed to build a diverse core of coffee devotees who'll come in time and again for their fix.
"We only advertise it with a little sign out the front of the store, but people definitely come in just to get one," she says.
And she rewards them for coming in regularly. "One good thing that we do is the loyalty card," she says. "We stamp them and then customers get a free coffee for every 10 they buy, which is another incentive to get it from us.
"We keep some of them behind the counter in a box because people come in so regularly they don't want to lose them in their cars. We have about 50 in there at the moment, which really shows just how popular it is for us."
Location, location
Part of the reason for Leanne's success with coffee might well be the store's location (as well as her canny retailing skills). Alice Dolling, senior insights manager at HIM, advises that "the category is 16 times more likely to be purchased in a forecourt than a standalone store".
Leanne confirms this. "Basically we're a c-store with a forecourt, which is one of our strongest points in terms of coffee sales. We're on a busy through road and that means we get lots of white van men (and women) and people who'll come in for a coffee on their commute."
Leanne says that it's vital to understand that a coffee machine might not be the main attraction for the local paper and milk crowd.
"I think it's important to remember that with a coffee machine you're not selling to your super-local residents," she says. "It's more the people who will come in on their way to work, grab a coffee, maybe get a sandwich, too, and then drink the coffee in their car. It's the customers who are stopping off.
"That includes parents as well. It's always surprising to me how many people come in either on the school run or on the way home after they've dropped their kids off at school or nursery."
With potential like that it's not surprising that 'bean-to-cup' has become a mantra for companies keen to sell their branded machines into stores. Quality is certainly important for many coffee drinkers, yet Mos Patel, owner of two stores in Greater Manchester, says that in his experience cashing in on it is more complex.
He used to have a fairly premium coffee machine in one of his stores. However, it just wasn't the right fit for his customers and so he regularly failed to break even.
Frustrated, Mos decided to take matters into his own hands and install a budget instant coffee option instead.
"The old machine just wasn't in the right place for a start," he says. "It was right in the back of the shop so no-one could really see it. Then they wanted to charge us a grand to move the machine somewhere else! And remember, it wasn't even really my machine, I was just renting it."
He says that the premium machine's small coffees used to sell for £2. Now he's able to charge much less and he's seeing them "absolutely fly out of the shop".
"Everyone at the trade shows are constantly saying 'bean to cup, bean to cup'," he says. "Fair enough. But the store isn't in an affluent area. What we're dealing with is that 95% of our customers are working class people – they earn just above minimum wage. So if they want a coffee somewhere there'll go to a McDonald's drive-through.
"What they want from a convenience store is value-for-money."
In his experience, this means that they care less about quality if the price is right.
"We've had no bad feedback about the quality except for one guy who liked the old machine and used to buy a couple of cups a day," says Mos.
He says another advantage is that cleaning the machine is now so much easier. "Before, we had to spend 20 minutes sorting it out because it used fresh milk. Now because it's all instant and powdered, you just press a red button and it's all done in 20 seconds. That's great."
Leanne agrees that you have to know your customers and match your offer to their needs for hot drinks to be a success.
"It's about knowing your customers and understanding what kind of footfall you have in your store," she says. "You have to look at whether you're going to sell enough in the average week and what that means for your store."
Mos believes that premium bean-to-cup coffee can work in certain stores, especially if it's part of a strategy to bring in new customers – or get existing ones to spend more.
"Some stores are able to do bean-to-cup coffee for a quid," he says, "and the way they work it is to make sure that people come in and buy other things, like some regular shopping, or they have breakfast going on and then people come in to buy that."
Extra sales
That's exactly what happens at Debbie Deeley's Spar store in Lancashire. She uses the Insomnia Coffee brand to lure in hard-working tradespeople who're up for a flat white and a bite to eat. She says that good food and quality coffee is a natural c-store match.
"We're a store that does a lot of food to go and coffee really fits in with that," she says. "It just goes well with a lot of different foods. Like over Christmas we did mince pies, and then cookies and croissants, things like that.
"It works well in a meal deal, too. For the workmen who come in we do a cup of coffee and a pie at a fixed price, which they really like because they're getting value for money."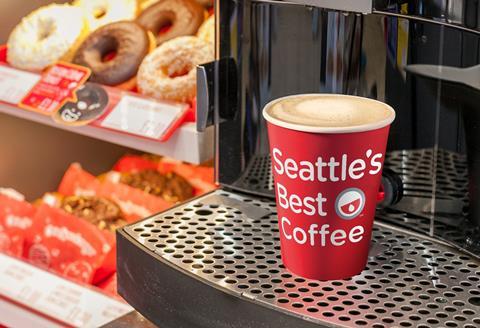 Delice de France (formerly Aryzta Food Solutions) is enabling convenience retailers to boost sales and meet shopper demand for coffee and a snack thanks to its partnership with Seattle's Best Coffee.
Delice de France sales operations director Jenny Bayliss says: "Our partnership provides retailers with a range of self-serve solutions that delivers both great-tasting hot drinks and a great customer experience. Shoppers can enjoy favourites including latte, Americano, mocha, cappuccino and brewed filter coffees, as well as hot chocolate, via self-serve technology with integrated touchscreens and fully-automated technology to produce consistently high-quality beverage made with freshly ground coffee and fresh milk."
She adds that the company offers various integrated solutions to hold morning pastries and afternoon sweet treats, enabling retailers to increase their basket spend and upsell to shoppers while they are waiting for their coffee to pour.
"With the continued rise of coffee on the move, there's a key opportunity for retailers to implement a link purchase such as a coffee with a croissant or pain au chocolat, to maximise the breakfast-to-go occasion. One in seven shoppers buy a bakery item with their hot drink to go (HIM CTP 2018)," says Bayliss.
Dolling concurs that coffee is an increasingly popular choice in the food-to-go mission. "Our research shows that near to one in eight c-store shoppers are purchasing coffee to have with brekkie and a similar figure to have with lunch," she says. "So there is an opportunity for breakfast and lunch meal deals that include hot drinks to go."
There's another slight downside to the 'bean-to-cup' trend, too. In the scramble towards coffee, good old-fashioned tea can sometimes get overlooked. And that's daft, since it's a stone-cold c-store top-seller. After all, tea is still the nation's favourite drink – apart from tap water – (Kantar Worldpanel June 2019), sipped by eight in 10 UK consumers (Mintel 2019).
Leanne's store does three different packaged black tea brands, plus decaf, and four or five herbal teas. She also has a local blend in there that's a hit with some of the tourists that find their way into her store.
"We do this local Devon tea, which some of our locals like," she says. "But it does really well with tourists who are visiting the area and maybe want something to take home with them that reminds them of their holidays."
Alongside the tea her shelves are packed full of coffee variants. She does Taylor's filter coffee, Kenco and Nescafé. The latter goes like the clappers if it's on promotion.
"We've just come off a four-week promotion with Nescafé Gold at £2.55," she says, "and it's just sold so well, we've gone through crate after crate of it. We just keep on re-stocking the jars."
This chimes with what's happening in the wider packaged hot drinks sector. Pricemarked packs and everyday deals still rule – with customers looking to save money.
For retailers looking for something new to perk up their tea aisles, Mintel confirms that younger people are up to try new varieties of tea, especially if they're linked to health benefits.
Innovation can undoubtedly give overall sales a lift, but for the time being the bitter winter weather might be the most powerful sales booster UK stores have.
"Let's face it – if you can't sell hot drinks when it's this cold then you're never going to be able to sell them!" says Mos.
Bringing home the coffee potential
Modern coffee trends are often dictated by what that bearded barista's doing at your local posh coffee place. And so the race is on for manufacturers to make them easy to follow at home too.
"Many of the coffee trends in retail are led by demand in out-of-home coffee consumption, as consumers seek to bring the coffee shop experience to a convenient home format," says Michael Haynes, category and shopper marketing team lead at Jacobs Douwe Egberts (JDE).
One new launch which aims to emulate the coffee shop experience at home is Bestway's new Best-one 
Barista Premium Americano Instant Coffee, which carries a £2.49 pricemark. It is one of five new premium coffees available to Best-one symbol group retailers, Xtra Local Club and Bestway Wholesale customers.
The rest of the range includes: Best-one Rich Roast and French Style Fresh Ground Coffee (rrp £2.29), and Best-one Inspired Columbian and Guatemalan Roast & Ground Coffees (rrp £2.99 for a 227g bag).
As well as new products, what keeps caffeine-seeking customers coming back is price and range, claims JDE. Haynes says that you need to get that right to really cash in with packaged lines.
"Distress top-up is the most common driver for purchasing packaged coffee in the convenience channel, with 47% of shoppers stating it is the most common reason for purchasing (HIM 2019)," he says. "Good prices and promotions as well as convenient location can all drive shoppers."
Keep sales sweet with hot chocolate
Don't let hot chocolate get overlooked in your beverage edit. Mintel reckons that more than half (57%) of consumers drink hot chocolate, with sweet-toothed 16- to 34-year-olds putting away the most (Mintel 2019).
Nailing it could add oomph to your selection and add excitement away from coffee and tea.
According to Mondelez International there is an opportunity for retailers to offer healthier options. "There is an ongoing consumer focus on health and wellbeing in the market, and therefore a need for sugar reduction in products," says Mondelez trade communications manager Susan Nash.
Cadbury Hot Chocolate, the UK's number one hot chocolate brand (Nielsen Total Coverage 52 weeks to 29 December 2018), launched its first reduced- sugar variant last year, to tap into this. This latest innovation offers the hot chocolate taste shoppers know and love with 30% less sugar.
Tea leaves the rest standing for healthy options
Despite c-stores' ongoing coffee-mania, there are strong opportunities in tea for retailers, confirms Peter Dries, director of customer and shopper marketing at Tata Global Beverages.
"The challenge is to keep pace with changing tastes, and what drives purchase, and use this knowledge to adapt your tea range.
"As a beverage, tea should be an easy sell. It's a naturally healthy drink, good for hydration, low in sugar and caffeine. Highlighting these benefits and offering a selection of teas will help attract younger shoppers to tea and encourage existing tea drinkers to broaden the range they select.
"Getting it right can result in greater sales and profits in tea and benefit sales in other categories, too," Dries says.
C-stores in particular are benefiting strongly from tea's healthy image. Volume sales for speciality teas are up 25.2% in the channel year on year, while fruit and herbal is up 12.3% and green up 7.9% (Tetley Market Report 2019).
Tetley has four of the top 10 skus in impulse, including Tetley Pure Green 20s and Tetley Green and Lemon 20s – both are available in pricemarked packs of £1.49, and show volume growth in impulse of 22.5% and 5.8% respectively (Ibid).
To support retailers Tetley has developed a mobile-, iPad- and android- friendly guide to the category at www.tetley-convenience-sales-guide.co.uk.
Dries adds: "The guide is designed to be used at fixture and includes marketing insights, shelf plans, tips on what to stock, what's selling best and how to maximise sales."