Coffee brand Lyons is gearing up for the launch of a new portfolio, including a fresh look, additional blends and new formats for its range of bags, beans, ground coffee and capsules.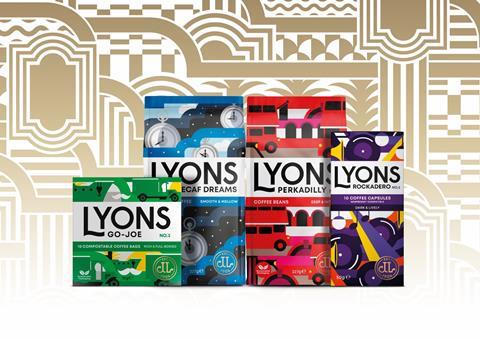 The all-new line-up includes "eye-catching illustrations and light-hearted blend names" that tell the story of Lyons' heritage.
Two new variants, Perkadilly and Rockadero, offer further choice of flavour and strength to suit all palates.
In addition, its best-selling No.3 blend has been renamed Go-Joe – after its founder Sir Joseph Lyons - and Decaf is now Decaf Dreams.
Lyons is also relaunching its coffee bag offering in a convenient pack size of 10 and with fully recyclable packaging.
In-store from 1 March, the range is positioned at an accessible price point that seeks to drive new consumers into the category.
The relaunch will be supported by a targeted media, social, digital, out of home and print campaign, also live from 1 March.
UCC Coffee commercial director Marcus Swift said: "We know today's coffee consumer desires more than just a caffeine fix, they want full-bodied flavours and formats to suit their needs, at an affordable price. Our refreshed range certainly delivers this, and we're excited to unveil it in stores across the UK.
"Aligning to the trend for convenience and quality evident within the category, the coffee bags sector is now worth £6.9m and growing at an impressive 49.2%.
"With sustainability becoming more and more important in customers' purchase decisions, we're also pleased to now offer fully compostable coffee bags and sachets.
"It's set to be a great year for Lyons and we're confident we'll bring growth to the Roast & Ground coffee category with our new and improved range."