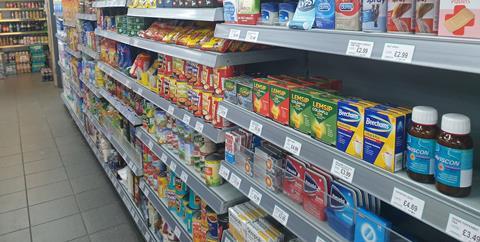 1. C-stores are holding share as supermarkets dip
While the OTC medicines market is becoming increasingly important all year round, there's no doubt that winter remains the key time of year for sales. The market is worth £144m in the independent convenience channel (Nielsen) and retailers who prepare now can put themselves in the best position to drive their sales and profits in the coming months.
Faraz Iqbal, owner of Premier Linktown Local in Kirkcaldy, Fife, says: "Our over-the-counter medicine range is quite strong and we tend to order more for the winter. Our key sellers include Calpol for children, paracetamol, and ibuprofen, but we stock a full range because you don't always know what customers will want."
One of the reasons why the category is still so lucrative is unfortunately because shoppers are becoming unwell more often. Elizabeth Hughes-Gapper, Jakemans senior brand manager, says: "In 2022, the cough, cold, and flu remedy category grew due to the lifting of social distancing measures and weakened consumer immunity after strict hygiene practices during the pandemic.
"This trend has continued in 2023 as we are continuing to see an increase in ailments as consumers have not fully regained their pre-pandemic immune health. Unsurprisingly, experiences of colds, flus, sore throats, and coughs have all risen [Mintel]."
When consumers do get ill, they are also now more likely to take care of themselves using home remedies rather than visit a doctor. Matt Stanton, head of insight at DCS Group, says: "Many people are struggling to get appointments with their GP or dentist. Shoppers are increasingly time poor and looking for the most convenient solution, and many will turn to self-care rather than booking doctors' appointments. As a result, OTC medicines categories are in strong growth."
However, just because consumers aren't visiting their doctor, that doesn't mean they aren't still looking for expertise. While supermarkets' share of the healthcare category has dropped by -0.7% in the past year, chemists have increased theirs by 0.6%. Symbol and independents have held flat (Circana). This is despite prices being 9% more expensive in symbols and independents than in supermarkets (Circana). Retailers who can offer convenience and knowledge, alongside a broad range, will keep sales strong.
70% of OTC healthcare sales come from just three categories; pain relief, cough & cold and gastro [Circana]. Specialists may want to consider adding allergy, eyecare, intimate care, sleep, and mouth remedies to become a destination and drive footfall this winter, suggests Mintel.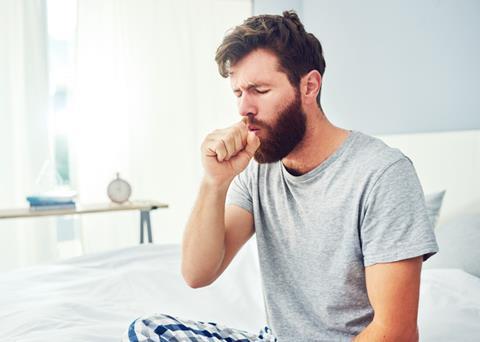 2. Symbols & indies have a 7.1% share of the OTC cough & cold market
Symbols & independents perform the best vs competitors in the OTC cough, cold & respiratory sector, with a share of 7.1%, compared to 5.1% in pain relief and 2.9% in gastro & intestinal (Circana). Fortunately for retailers, lozenges and pastilles, a key component of the cough, cold & respiratory category, is one of the best performers.
"It's been a year of strong growth for the lozenge and pastilles market, which has seen value sales increase +30% and volumes increase +11.2% across all channels combined [Nielsen]," says Jon White, regional business manager for Fisherman's Friend in the UK.
"Consumers are seeking out products to help relieve symptoms, but we are also seeing how people are consuming lozenge and pastille products across less traditional occasions. For example, due to the high levels of menthol in our products they keep breath fresh, and there is a huge pool of shoppers who use Fisherman's Friend for the purpose of the latter alone."

3. Pain relieve generates 30% of OTC meds sales across all channels
With three in every £10 spent on the category coming from the pain relief segment (Circana), this is the most crucial area for retailers to get right.
The category is a signpost for the OTC medicines display, so retailers should make sure their shoppers see this area first on the fixture this winter. DCS Group's Matt Stanton says: "From left to right, retailers should start with adult pain relief, then cold and flu, then cough and then decongestants.
"An off-shelf feature or display can generate up to 40% of sales, so this is worth considering if this is an option."
Scott Graham, owner of McLeish in Inverurie, Aberdeenshire, took this approach with the category four years ago. He positioned them next to the till, rather than behind it, benefiting from the category being noticeable on the shop floor, while still in eyesight of the counter. "Customers can now see our range as they enter the store, and this move also helped with security and theft," he says.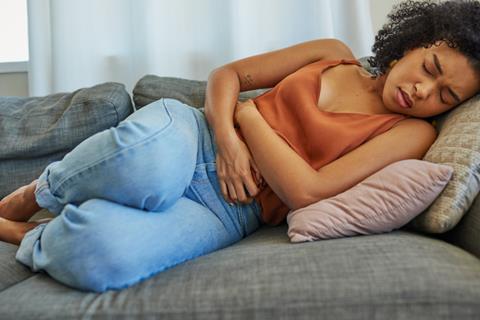 4. Symbols and indies are under trading in gastro and intestinal products
One of the biggest opportunities for retailers to make up ground within the category is in gastro and intestinal products, worth £12.1m in symbols & independents and growing at +10.5% YoY (Nielsen).
Speaking exclusively to Convenience Store, Alex Lawrence, senior strategic insight director at Circana, says: "There's a big under trade in gastro and intestinal products in convenience. Symbols & independents have only a 2.9% share vs 7.1% in cough and cold [Circana]."
Matt Stanton, head of insight at DCS Group, says: "Indigestion remedies are important at times of year when people eat and drink for special occasions, such as the festive season. Around 55% of UK adults suffer from heartburn and indigestion. While 24% of adults are first time or occasional sufferers, 31% are either moderate or frequent sufferers, and these shoppers in particular buy remedies all year round [Reckitt]."
Retailers should therefore make sure they are highlighting this range more in store as winter approaches. Faraz says: "Customers expect us to have it because we're a convenience store and we have to offer convenience. Currently, our range is kept by the till because of security concerns but we'll promote the products that people are looking for more in store in the colder months."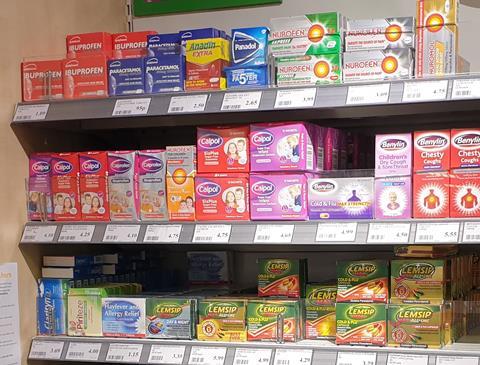 5. Branded healthcare is growing +3.6% vs a -4.6% decline in private label
Nielsen
While most categories have seen a surge in own label in recent years, OTC medicines remain firmly fixed on brands. "Private label unit share of healthcare has dropped, down -0.2% to the wider market where these lines are gaining ground [Circana]," says Circana's Alex Lawrence.
DCS Group's Matt Stanton says this is because medicine shoppers are typically brand loyal, seeing well-known brands as experts. "Whereas other grocery categories are seeing shoppers trading down to cheaper private label products, shoppers are less likely to do this on medicines," he says. "Branded healthcare is growing ahead of private label in the UK (+3.6% growth in brands vs -4.6% decline in private label [Nielsen], which contrasts with many other grocery categories where private label is growing ahead of branded products."
Retailers must find the balance that works for them when it comes to private label. Scott says: "Over the counter medicine is a challenging category and one we've had to guess we're doing correctly. Currently, we focus on own-label paracetamol and ibuprofen but we also stock key brands, such as Anadin."
By stocking a core range of trusted brands and training your staff to be able to advise on them confidently, retailers can grow category sales this winter and support their customers when they need them most.