With many consumers looking to curb their spending, BBQs could catch fire this summer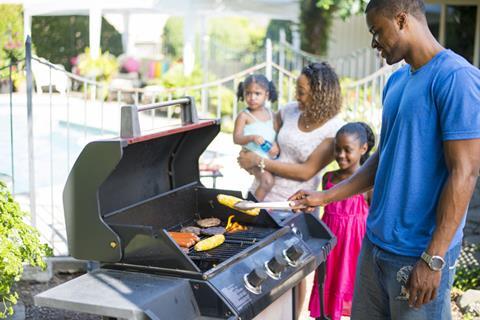 1. Brits enjoyed 80 million BBQs in Summer 2021
While last Summer couldn't compete with the 100 million BBQ occasions that took place during 2020, the 80 million that occured in 2021 (Kantar, 16 w/e 8 Aug 2021) is nothing to be sniffed at. The Agriculture and Horticulture Development Board put the decline down to Covid-19 restrictions easing throughout summer 2021, and foodservice opening at reduced capacity, but claimed that BBQ occasions have been sustained when compared to the summer of 2019.
With foreign holidays back on the agenda and beer gardens firmly open – you'd be forgiven for thinking that Brits might skip backyard BBQs this year. Yet there's still plenty of reasons for getting the burgers in for summer 2022.
"I think we're going to do quite well this year with BBQ," says Falkirk retailer Anand Cheema.
"For one thing I believe that, with rising prices, people have become quite conscious of cost. And a barbecue can be a good low-cost option. I think the occasion is there to be pushed by c-stores."
Last year Anand made sure all the essentials were on prominent displays in-store. In one area went a selection of utensils, fire-lighters and trays. In another went snacks, buns and other key ingredients. His mission was simple: to position his store as a one-stop BBQ shop.
"People come in to us for the full BBQ solution," he says.
"They don't want to just buy a disposable tray off you and then go to another store."
Retailers know that if the mercury is high then BBQ aisles take a beating. Richard Inglis, owner of several c-stores in Southampton, has found clever ways to ensure availability during peak times.
"One of the things we've done is teamed up with a local butcher's who focus on delivery," he says.
"We can order in the morning and they'll have the meat over to us later the same day – which is excellent. Co-op do a great core selection, but it's nice to have the back-up of a local supplier. It's made us a little bit more flexible, more able to react to stuff over summer."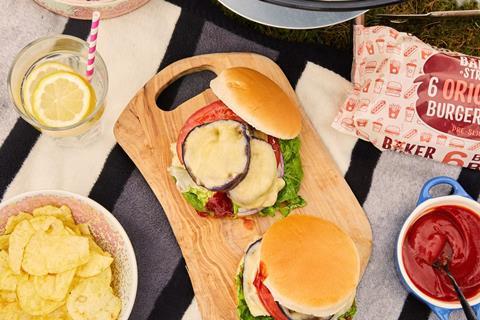 2. Burger buns added an extra 10 million to the rolls category last summer
There's definitely a leading roll for bread during this BBQ season. Because when the sun's out the buns come out at barbecues all over the UK.
"Looking at the data from last year, it's clear to see that there is enormous opportunity in barbecue season and the rolls category really comes into its own," says Paul Baker, founder of St Pierre Groupe, which owns the St Pierre, Baker Street and Paul Hollywood brands.
"In the last 12 weeks to August '21, sales in rolls increased by £20 million. Burger buns alone added an additional £10 million to the category during the summer months [Nielsen Value Sales 12th March 2022], which delivers a clear message to convenience stores."
Richard says that he's seen sales of long-life buns rise in-store during BBQ weather.
"We've been buying the long-life stuff from suppliers and it's actually gone down really well with our customers," he says.
Customer thrift could be one reason for this shift in carbohydrate choice. And so could a rising understanding of food waste.
"Food waste remains a big topic and people are looking to buy more longer-life food and drink products to help combat this," says Louise Reynard, commercial controller at St Pierre Groupe. "Baker Street [which offer burger buns and hot dog rolls] is cleverly packed to stay fresher for longer and guarantees a minimum life of 35 days from delivery to depot, helping convenience stores ensure on-shelf availability and reducing the risk of wastage."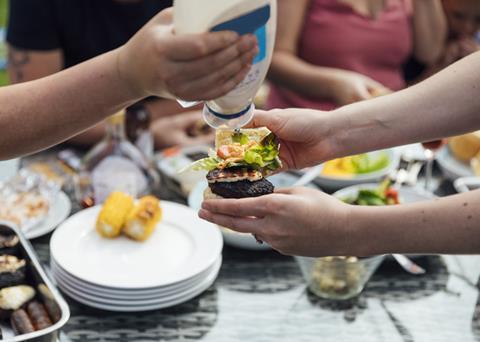 3. Two out of five BBQ occasions in 2021 featured dressings
The appearance of dressings at BBQs has grown YOY, up from up from 37.9% of occasions in 2019 to 40.4% now (Kantar Usage GB Dec 2021).
"Sauces are definitely one of the main items for BBQ," says Anand. "You have to get tomato sauce and mayo – and I think people are now looking for something a bit more exotic as well."
Mayo certainly got a sales boost in 2021, according to Georgina Bradford Nutrition (F&R) Marketing Director UKI at Unilever. "Our Hellmann's Mayonnaise has maintained its leading status in sauces and condiments over the past year, featuring heavily on Brits' shopping lists," she says. "Last year, unit sales of our mayonnaise in the six months from April to Sept were 9% higher than in the preceding six months which shows the demand for our creamy condiment over the BBQ season [Kantar Usage GB Dec 2021].
"Hellmanns' Vegan Mayo also had its biggest year yet last summer. Our vegan alternative also maintained strong market leadership at 54% share of total vegan mayo market over the six-month summer period [ibid].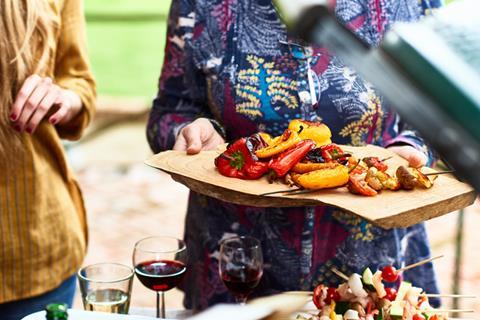 4. There were 3.2 million fewer meat-free barbies in 2021 as under-35s hit the pubs
It's no surprise that meat-free is increasingly on the c-store menu, since the category grew an impressive 15.1% to £607.3m last year (NielsenIQ 52 w/e 11 September 2021). But strangely, the stats show meat-free BBQs were in decline last summer (at least compared to 2020), with 3.2 million fewer held in 2021 (Kantar 52 w/e 26 Dec 21).
So what's going on? One answer could be that the under-35s more likely to follow meat-free diets [IGD] chose to head back to pubs and clubs last July rather than hang around in the back garden hosting barbies.
This fact could have skewed the figures. Which means providing vegan and veggie options is still key. Especially since they signpost the evolving healthy eating category.
"I definitely wouldn't say say veggie options are our biggest seller in BBQ," says Richard. "But we do the Co-op's Grow range and it ticks over very nicely."
And of course, regardless of whether or not consumers want a meat-free BBQ, a selection of salads and sides par for the course.
"Long since gone are the days when consumers are satisfied with bangers and burgers at a BBQ – there is now a renewed focus on health and variety," says Polly Davies, Florette category controller.
"Though COVID-19 restrictions have lifted, healthy eating is still high on the agenda, with a third of shoppers stating they are looking to eat more fruit and veg [IGD Shopper Vista – Health & Nutrition Tracking January 2022].
"There has been a move from calorie control to holistic health, with consumers opting for a more varied and natural diet. When it comes to BBQ occasions, this balanced approach to a healthy diet continues, with consumers turning to fresh produce to add more colour, texture and freshness to their plate."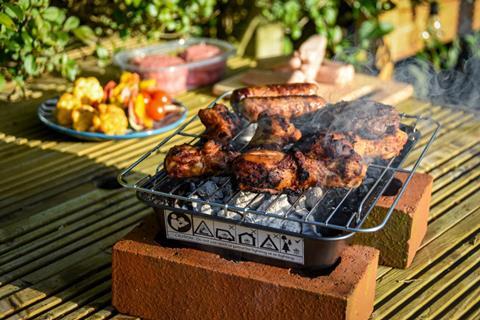 5. Four in five Brits want single-use plastics banned – which spells change for BBQ trays
The whole point of a disposable BBQ is that you can nuke it and chuck it. Yet growing eco-awareness might mean consumers make other choices this summer, with 80% of Brits agreeing that single-use plastics should be banned as soon as possible (IPSOS Global Advisor survey August 20th and September 3rd 2021).
"When it comes to convenience purchases, products with sustainability credentials will be chosen more often than those that don't," says Caroline Morris, head of sales at Bar-Be-Quick.
"Retailers need to have this on their radar. It's also worth keeping in mind that consumers are willing to pay a premium price for higher quality, environmentally friendly products — creating a key driver for sales growth."
Bar-Be-Quick's instant Barbecue is already fully recyclable. But to cover all bases it's also weighing in with a Reusable Instant BBQ too.
"This product can be used by consumers several times over and comes in plastic-free, minimal eco-friendly packaging," says Morris.