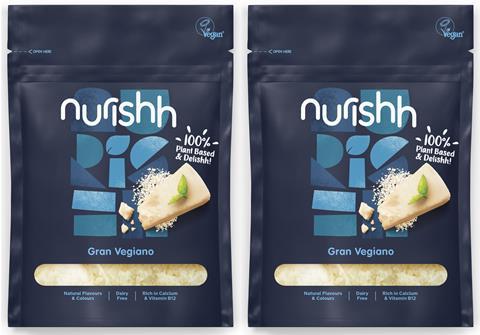 Bel UK has expanded its dairy free Nurishh range with Gran Vegiano.
Nurishh Gran Vegiano comes in 150g packs (rrp £3.50) and will be launching in Co-op in May.
Designed to tap into Italian dishes, which are the second biggest usage occasion in the alternative to cheese category (Kantar Usage panel, Total Cheese, Top three dishes, 52w/e 27th December '20), Nurishh Gran Vegiano comes in a convenient pre-grated format, for topping pasta dishes or sprinkling onto a pizza. Nurishh Gran Vegiano is dairy free, lactose free, and only uses natural colours and flavourings. The plant-based alternative to Parmesan is rich in calcium and Vitamin B12 and has 50% less fat than some of the key competition, catering to a more health-conscious consumer, claims Bel.
The new addition joins the versatile, Vegan Society certified Nurishh range which includes a Plant Based Alternative to Camembert, Mozzarella Style Block, Cheddar & Mozzarella Style Grated Blend and Cheddar Style Slices. With dairy free alternatives to cheese growing faster than cheese (IRI, value sales % change 2021 vs 2022 01/01/2022) and Nurishh leading category growth as the second biggest contributor to value sales gains (YTD 26/02/2022 vs YA, contributing to 21% of the value gains), Bel states that the range expansion presents a significant sales opportunity for retailers, by unlocking new usage occasions.
Justine de Monès, senior brand manager at Nurishh, says: "More than two thirds (68%) of British consumers are considering a transition to a plant-based diet [Upfield], but taste can be a key barrier. Our versatile product range has been designed to change that, providing consumers with all the ingredients and inspiration to create great tasting plant-based dishes for every occasion. Not only will the expansive range help our retailer partners meet growing consumer demand, but it's also a core part of our ambition to diversify with a greater focus on healthy snacking, keeping dairy at the heart of Bel UK as we also develop complementary fruit and plant-based options."