Subpostmasters will receive a 10% increase in remuneration for providing Post Office services in 2020/21, the Post Office has announced following a six-month review.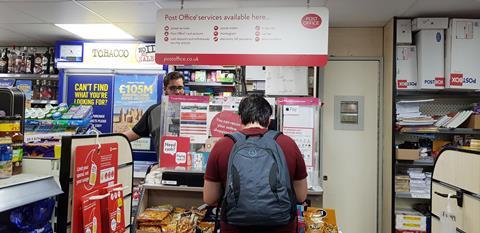 The £37m hike in remuneration will cover additional payments to smaller, rural post offices for the services they provide; increased fees for providing everyday banking services; increased payments for handling digital passport applications; and increased payments for handling online travel currency purchases that are collected in a branch.
The Post Office said the move formed part of a "major new drive" to reset the relationship with postmasters, to reflect a much improved commercial partnership between the Post Office and the thousands of individual business owners who make up the network.
In addition to the increase in fees, every postmaster will benefit from a dedicated area manager to support and help them in all aspects of their businesses.
The £37m increase includes the £17m per annum already announced in August 2019, which covered increased transaction fees for handling banking deposits in all branches, as well as increases to fixed payments for community branches which are often the last or only shop in the village.
Post Office ceo Nick Read, said: "Post Office branches are the backbone of our business and the heart of their communities. I am determined that the commercial partnership we enjoy with them genuinely reflects that and I am delighted to be able to begin that process through today's announcement. The retail landscape is tough, and the dedication and hard work postmasters show day-in, day-out, must not only be acknowledged, but be properly remunerated too.
"We are putting our customers and the postmasters who serve them front and centre of our future business. Our recent agreement with 28 UK banks to provide everyday banking services is evidence that we are able to negotiate great deals for Post Office.
"I am determined that we share the benefits appropriately with our partners, postmasters wherever they are, the length and breadth of the UK."
Welcoming the announcement, National Federation of Subpostmasters ceo Calum Greenhow said: "To Post Office's credit, they have listened to the NFSP as the collective voice of subpostmasters. But the work doesn't stop there.
"It is imperative that we anticipate and adapt to future changes in the marketplace to ensure that subpostmasters are equipped and incentivised to grow their footfall and income. That is the only way we will be able to guarantee the long-term success of the overall business. This year we have looked to stabilise, next year and beyond we can look to sustain and grow."
The six-month review included engagement with the National Federation of SubPostmasters (NFSP), postal affairs minister Kelly Tolhurst, officials in the Department for Business, Energy & Industrial Strategy, retail partners and around 50 independent postmasters.
MPs on the cross-party Business, Energy and Industrial Strategy Committee recently called on the government and the Post Office to take in to account the "vital social role that subpostmasters are fulfilling" when reviewing their remuneration.
In October the Post Office announced a new Banking Framework agreement with UK banks, which Barclays has since signed up to.