A man who threatened staff workers with an imitation firearm at an Aldi in Newcastle-upon-Tyne has been jailed for nine years thanks to the "bravery" of staff, according to police.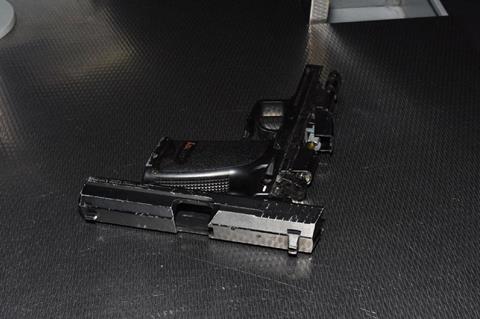 The incident happened at the store on Stamfordham Road in the ward of Westerhope on 13 February.
Richard Watson, 34, pleaded guilty to charges of aggravated burglary with intent and possession of an imitation firearm when committing an offence and was jailed for nine years at Newcastle Crown Court.
According to Northumbria Police, Watson gained access to the store via an air vent on the exterior wall, before the store's deputy manager, Brian Moon, was confronted by the masked intruder carrying a handgun.
Moon was struck three times across the head by Watson before subduing the offender in a headlock. Another store worker grabbed the gun, which later turned out to be an imitation BB gun and Moon was taken to hospital for treatment to cuts and bruises sustained in the assault.
Northumbria Police Central CID detective constable, Kelly Adams-Gray, said: "There had obviously been a large degree of planning for this robbery, but Watson took for granted the bravery of staff. He has gone to extreme lengths to break into the building and then resorted to violence when his plans began to unravel which must have been terrifying for staff working that night.
"Ultimately it was the bravery of Mr Moon and the rest of the staff on duty that night that prevented Watson from escaping the scene with a haul of stolen goods. They were confronted with a man holding a gun but showed incredible courage to stand up to him and force him out of the building, despite the risks to their own safety.
"If it was not for their intervention then we may not have had the forensic opportunities that helped identify Watson as the offender. Thanks to their bravery a dangerous, armed robber is now behind bars and I hope they can feel proud of themselves for what they did that day."
The sentencing follows several recent incidents across the UK, including a man jailed for five years following two c-store armed robberies in two days in Ipswich and a man jailed for four years and eight months following a crowbar-wielding robbery in Lincolnshire.
C-store retailers recently appeared on the BBC's Victoria Derbyshire show to highlight their experiences of violence and abuse against store workers amid cross-industry calls for government action.