C-store retailers appeared on the BBC's Victoria Derbyshire show on Friday morning (28 June) to highlight their experiences of violence and abuse against store workers amid cross-industry calls for government action.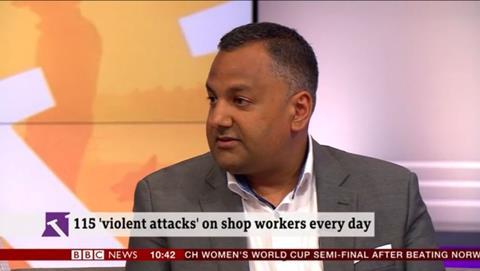 Paul Cheema, co-owner of Malcolm's Stores in Coventry, and Jonathan Dunkin, a store owner in Clacton-on-Sea, spoke on the BBC show on the day the Home Office closed its 12-week call for evidence on violence and abuse in the retail sector.
Jonathan, who was violently attacked during a robbery at his store in Essex on 27 April, said: "It is very intimidating. There is nothing else you can do when you're on the front line. If they are attacking me, I am there to protect what's there and what's mine. My actions are to safeguard the money, the till.
"I've had broken ribs twice now, broken tooth, broken nose, a broken finger. You name it, it goes on. Gradually, it is certainly getting worse. Abuse, especially from young kids, going all the way up now. Spitting at you and throwing bottles of drink over you. They are going feral."
The Home Office call for evidence on violence and abuse saw thousands of responses from store workers submitted, highlighting the true cost and frustration of retail crime, while a cross-industry coalition of retailers and trade bodies have called for further action to tackle violence and abuse against store workers.
In an open letter to the Home Secretary and other ministers, the group, which included executives from Costcutter, McColl's, Spar, Co-op Food, Central England Co-operative and Scotmid, called for action to deliver meaningful change that will reduce levels of violence and abuse, both from central government, the wider justice system and from retailers themselves.
Paul, who also featured on an episode of Channel 4's Dispatches programme titled Lawless Britain: Where are the Police? in October 2018, said: "It is the last day of the consultation today, so from my point of view, if I didn't have the Association of Convenience Stores to go to as our body I think we'd be pretty lost as an independent retailer.
"We had two armed robberies last year. If you put the business to one side, because we're insured, what impact does that have on the community?
"We know we haven't got any support from the police. They are under resourced, but we are facing these problems every day. It is a burden on our business every minute of the day. It's to the point where you press the panic button and the police don't respond for six and a half minutes."
Other retailers have told C-Store that the emotional well-being of convenience store staff is being put at risk by the threat of crime and worsening levels of verbal abuse linked to age-related sales.