All London retailers selling knives are being invited to sign up to a new Responsible Retail Agreement (RRA) on knife sales.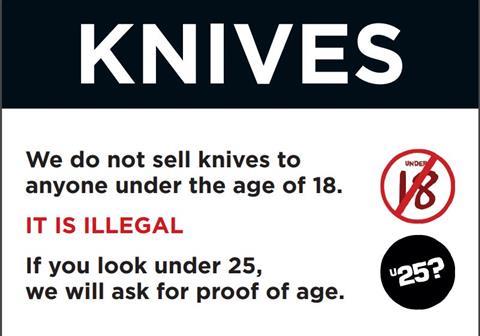 Launched today by London Trading Standards (LTS), the RRA urges shops to 'Assess-Challenge-Check' the age of knife buyers to stop illegal, underage sales.
The RRA, which is accompanied by a good practice guide and a set of online retailer training animations, comes as new figures show that 160 knives were sold to volunteers as young as 13 last year in test purchase operations carried out by London boroughs' trading standards, with one in nine stores making an underage sale.
The scheme is particularly aimed at attracting smaller independent businesses to help them comply with the law.
London Trading Standards, which represents 33 local authorities in London, will be joined by the Deputy Mayor of London and the Metropolitan Police for the launch of the RRA on knife sales.
LTS warned that, without new government funding, trading standards services did not have the capacity to enforce the new Offensive Weapons Act 2019 (Act) which deals with underage sales of corrosives.
London Trading Standards' operations director Stephen Knight said: "London Borough trading standards teams have been cut to the bone in the past decade and are extremely thinly spread dealing with criminal activity by London's 500,000 businesses.
"The Act will require significant new funding for trading standards if its measures are to be meaningfully enforced when it becomes law in the coming months."
Deputy Mayor for Policing and Crime, Sophie Linden, said: "Knives have no place on the streets of London. It's simply unacceptable that teenagers as young as 13 are able to buy knives – this is why it is vital that retailers comply with the law and stop knives from getting into the hands of young Londoners.
"This new support for smaller shops launched today will help ensure that all retailers are following best practice by helping to train staff on the storage and sale of knives and encouraging them to speak to the police if they have any concerns."