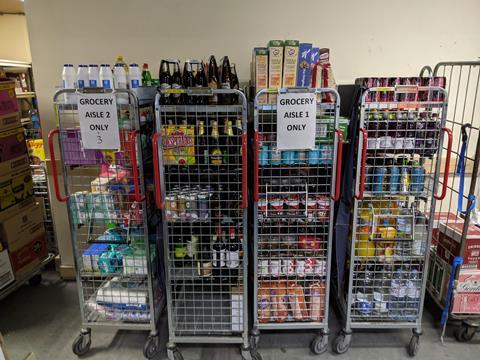 These have been truly changing times over the last 6 months or so. Some of you may have enjoyed sales growth others , like us in the city centres, not so much! Fortunately for us, over the past few years we have spent a lot of time working out how we can make our day to day operations simpler.
So here are a few of the changes we have made:
Store room stock trolleys – So simple but highly effective. In basic terms these have made our store rooms mobile. The store rooms in our stores are no longer filled with fixed racking, most has now been removed and replaced with trolleys. These carry a huge amount of stock and are dedicated to specific store areas e.g. alcohol, soft drinks, non-food, chilled and dry stocks. These are wheeled out for deliveries to the shop floor. All overs from our deliveries go straight on to the trolleys. This saves the to and fro from the store to the stock room. Not just on delivery but also on day-to-day refill. Ours are from Wanzl called KT3, have a Google, they do make life much easier.
On-line Document storage – We have so many different things needed to operate a store and with Covid-19, this list keeps growing. For example, alcohol licence, store insurance documents, store policy, signs, holiday requests, refusal logs, emergency call lists, Health & Safety policies, cleaning records…… So why do we have it online? I can make changes remotely, all the information changes at the same time (no old documents!) and more importantly it is one place my team can visit and find any and all information. Next time you get a visit from trading standards, an insurance inspection or a customer after allergens information.. . it's all on one place for you and your team.
Rota management software – Yes I have written about this before! There are so many different options and it makes life so much easier. The last few months with staff furlough, sickness, changing opening hours, we have been able to make changes at the click of a button. It has removed unnecessary stress and confusion for me and my team.
Removing low profit and labour intensive tasks – We have been ruthless in this regard the last few months. So gone is Paypoint, Collect Plus, Magazines (we just stock Newspapers now) and Tobacco is now only 30 lines (down from over 200 at one point). Controversial and maybe not right for everyone, but it has worked for us. No, our trade did not drop, in fact we increased sales and reduced staff stress.
I'm sure some of you may think we have gone a little crazy. However over the years we have made our jobs far more complicated than they needed to be. We have just re-focused on the areas which matter. Our rule now is "KISS" or "Keep it simple, stupid".