Kettle is launching a crisps range infused with premium flavours and made using beetroot, apple or sweet potato slices.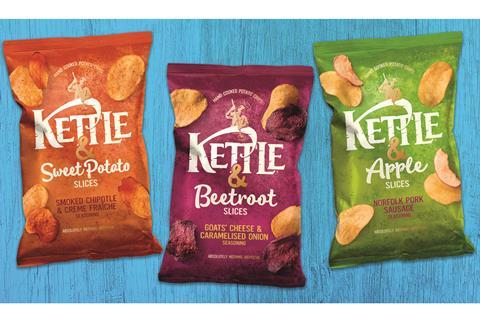 Available now to c-stores and independents, the new Kettle & More line-up is made up of three variants: Kettle & apple slices with Norfolk pork sausage seasoning, Kettle & sweet potato slices with smoked chipotle & crème fraiche seasoning and Kettle & beetroot slices with goats' cheese & caramelised onion seasoning.
The range comes in a 100g sharing bag format with an rrp of £2.25 each. The new chips are also made with 100% natural ingredients and are designed to drive sales in the crisps and savoury snacks category.
Kizzy Beckett, senior brand manager for Kettle, said: "We're incredibly proud of the new extension to the Kettle Chips brand. The new Kettle & More range shows Kettle at its most playful and innovative, whilst staying true to our core principals.
"We're committed to using 100% real food ingredients and ensuring our customers receive a product that is crunchy, tasty and satisfying. We can't wait for consumers to taste the new range as it is something quite different for UK crisp eaters to experience."
The launch of Kettle & More will be supported by a trio of television adverts, with a combined spend of £5 million.
The TV campaign will also be accompanied by a social and digital advertising campaign, which has been designed to highlight the real food credentials of the range. The activity will continue to push the brand's #RealFoodRealPleasure messaging.