Kettle Chips has reworked the classic cheese & onion crisp flavour to make it suitable for vegans.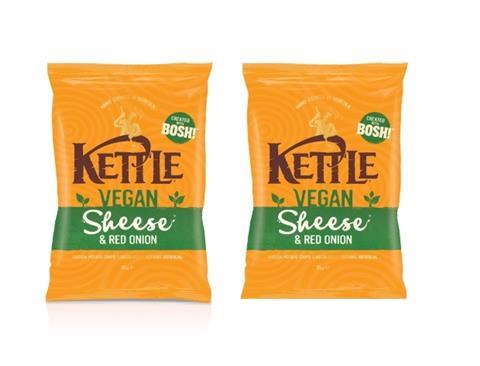 Kettle Chips' new Vegan Sheese & Red Onion (135g, rrp £1.99) has been developed by the brand's innovation chef Phil Hovey, alongside vegan chefs BOSH!. The new edition features vegan 'Red Leicester-style' from cheese-alternatives brand Sheese. Sheese contains no artificial ingredients and is produced in a completely vegan factory.
Launching in time for Veganuary, the new sku will be available to Budgens and Londis stores from the start of January.
Hovey said: "More and more people are adopting a vegan diet – between 2014 and 2018 the number of vegans in Great Britain quadrupled (Ipsos Mori surveys, commissioned by The Vegan Society, 2016 and 2019) and at Kettle we're always looking for ways to bring our flavour combinations to everyone, regardless of their dietary requirements."
Zoe West, corporate outreach manager at Veganuary, said that each year more and more people are signing up to Veganuary, "whether it's to help animals, do their bit for the planet or just as a challenge". She added: "It's great to see iconic and well-loved brands such as Kettle help extend their product range to offer those looking to change their diet even more options."