Delice de France is kicking off the new year with two new vegan bakery lines to bolster its existing vegan line-up.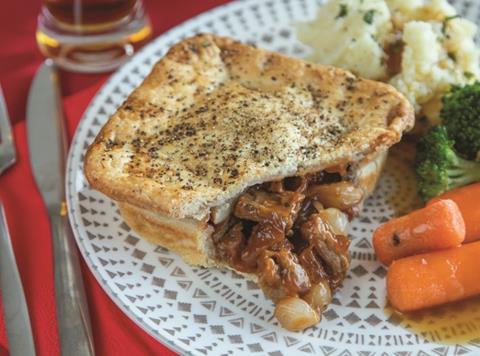 The company, formerly Aryzta Food Solutions, offers a range of products enabling retailers to meet the vegan trend throughout the day, from a vegan apricot croissant to a vegan sausage roll, and is now adding two vegan pies to the collection.
A vegan Fake & Ale square pie comes filled with steak-style strips and onions cooked in a vegan ale sauce, while the vegan Saag Mangalore Square Pie features a combination of cauliflower, spinach, chickpeas and lentils cooked in a spicy aromatic sauce.
Delice de France sales operations director Jenny Bayliss said the growing demand for free-from bakery products means there's never been a better time to review bakery offerings to tap into growing consumer trends.
She added: "From Meat-Free Monday to the rise of Veganuary, plant-based diets have taken centre stage as consumers look to reduce or remove animal products from their diets. The growth of those interested in vegan or meat reduction diets looks set to continue, and with it there's an increased expectation to see more vegan options widely available across all categories.
"The combination of great quality products and a freshly-baked offering that meets dietary needs proves irresistible to many shoppers. We're offering retailers the chance to make their outlet a destination shop for local consumers looking for great-tasting, freshly-baked vegan products that they'll return to buy time and time again."
The pies come in cases of 18 with an rrp of £3.95-£4.50, POR 45-60%.