Unilever is aiming to drive interest in ice cream over the festive season with the rollout of three chocolate orange flavoured products from some of its biggest brands: Magnum, Carte D'Or and Viennetta.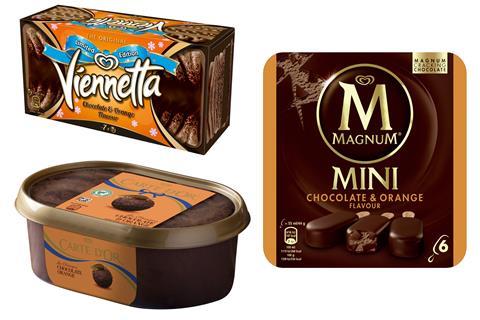 Designed to provide retailers with incremental sales in the frozen category, Magnum Mini chocolate & orange will launch into c-store freezers for the first time this month in multipacks of six (rrp £3.93 / 6 x 55ml).
Also new for the 2019 Christmas period is Carte D'Or chocolate orange. Made for those looking for indulgence during the winter holidays, the flavour comes in 560g tubs and carries an rrp of £4.12.
Finally, after first being trialled over Christmas 2018, Viennetta limited edition chocolate & orange is returning to shelves to give retailers a yuletide family treat to stock throughout the festive period (rrp £1.84 / 650ml,320g).
Andre Burger, vice president for ice cream & snacking, Unilever UK & Ireland, commented: "Chocolate and orange is a classic combination at Christmastime, and has been a festive family favourite for years. But over the past couple of seasons, searches for chocolate orange products have increased by a whopping 55%. To help retailers get in on the act, we've brought the classic flavour to three fun and festive ice cream products that are sure to be a sell-out this season."