Mars Chocolate Drinks and Treats is following up the launch of the Snickers Crisp chocolate bar with an ice cream version.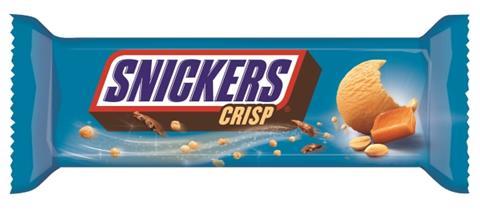 Available from February 2020 as a wrapped handheld single, Snickers Crisp Ice Cream offers the same taste experience that consumers expect from a Snickers bar, but with a new light and crispy texture.
The announcement comes as the UK ice cream market tops value sales of £1.1bn, with wrapped handheld ice creams dominating the category and worth £664m (IRI 52 w/e 12 Oct 2019 Total Market). The Mars Chocolate Drinks and Treats ice cream range continues to outperform the category and its competitors (IRI Convenience Outlets to 14 September 2019).
Michelle Frost, general manager at Mars Chocolate Drinks and Treats, said: "We are so excited to introduce Snickers Crisp to the freezer in 2020. This new sku has a great balance of not only taste, but texture too. We pride ourselves on bringing innovative and exciting products to the freezer and are confident this new ice cream bar will quickly gain the support of new fans."
Snickers Crisp (rrp £1.49, case size 24) joins other confectionery favourites in an ice cream format including Mars, Snickers Ice Cream Bar, Maltesers Teaser, Bounty Ice Cream Bar, M&M's Peanut and Skittles Cooler.
The Snickers brand will this year be supported by a multi-million pound media spend.