New Forest Ice Cream has extended its range of individual tubs with the addition of two on-trend flavours.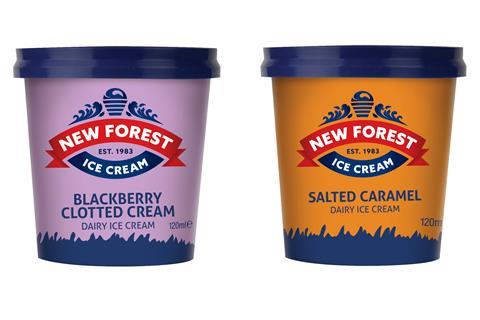 The 120ml blackberry clotted cream and salted caramel variants feature a spoon-in-lid design. The blackberry flavour is made using a clotted cream base and a sharp blend of blackberry fruits.
For those looking for something more decadent, the salted caramel tub contains a mix of salted caramel ice cream and sticky caramel swirls.
Commenting on the range extension, Christina Veal, director of New Forest Ice Cream, said: "Our blackberry clotted cream and salted caramel flavours are a welcomed addition to our range of 120ml individual tubs. We know that our customers love our salted caramel flavour in its premium scoop form, therefore we wanted to ensure it could be easily accessible for everyone, at any time! Our blackberry clotted cream is an entirely new flavour and is the perfect fruity addition to the 120ml range.
"The tempting blend of rich and creamy salted caramel ice cream combined with sweet caramel sauce is far too good for anyone to resist, whilst blackberry clotted cream offers a complete taste of nostalgia. Upon the first mouthful, childhood memories of blackberry picking on a warm summer's day come flooding back."
All of New Forest Ice Cream's 120ml tubs are made with fresh double cream and carry an rrp of £1.65 each (available to c-stores in cases of 24 priced at £17.22).