Unilever has unveiled an array of new products for its leading ice cream brands Wall's, Magnum and Ben & Jerry's.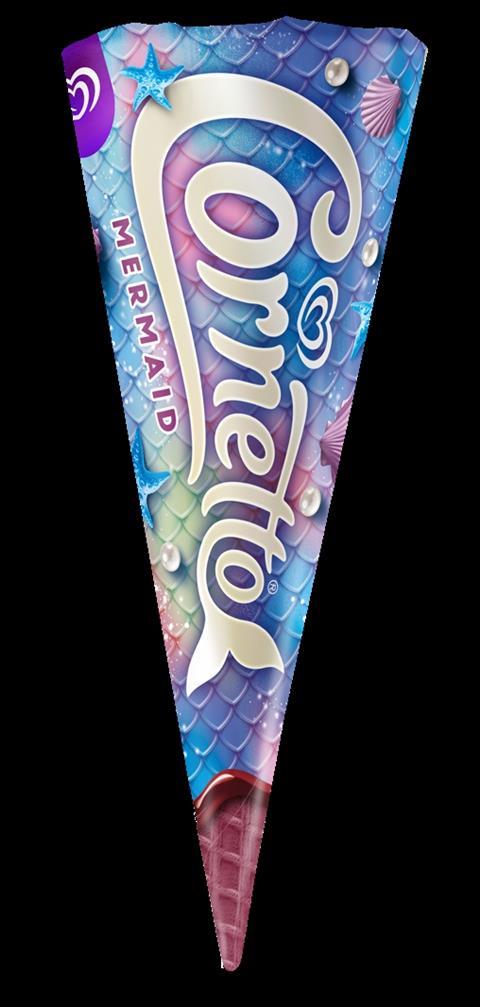 The company is embracing the trend for fantasy-inspired products and looking to appeal to Millennials and Gen Z consumers with Cornetto Mermaid.
The new product features a pink cone filled with a matcha and raspberry flavoured ice cream, with a holographic varnish on the packaging, emulating a mermaid's tail.
Also new in the impulse sector are two new flavours for Wall's Calippo - Cola and Lime. Lime is already in multipacks, but will be available as an impulse product for the first time.
Magnum Ruby, featuring ruby chocolate - unique in the ice cream category – and a raspberry swirl in the ice cream is now available to order.
Two new flavours have also been added to the Ben & Jerry's portfolio. A Netflix & Chill'd variety, featuring fudge and peanut butter, has been launched is partnership with the Netflix TV streaming service. A second new variety, Cone Together, features waffle cone pieces and salted caramel swirls and is being launched in partnership with Refugee Action to raise awareness of global refugeeism.
The company is also enahncing its corporate responsibility profile with packaging and sugar reduction initiatives. Ben & Jerry's tubs are now 100% recyclable, Magnum tubs are now made from 100% recycled plastic, and the core Twister product is now made with 13% less sugar. A Nice By Nature fruit ice product, made entirely from fruit with no added sugar, is also being rolled out after being exclusive to Tesco last year.