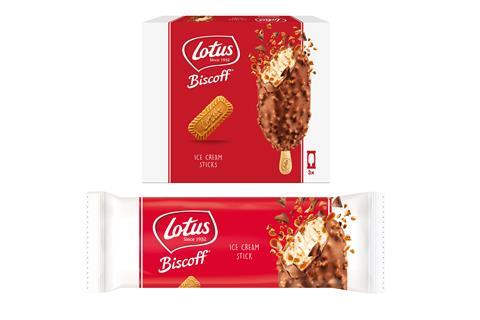 Lotus Bakeries is bringing Lotus Biscoff ice cream to the UK, available in handy individually wrapped packs.
Rolling out to convenience stores now, the new product is made using a mix of dairy ice cream and Lotus Biscoff spread, with a Belgian milk chocolate and crushed Lotus Biscoff coating.
Frances Booth, category marketing manager for Lotus Biscoff, said: "Expanding our UK portfolio with this momentous launch is an exciting step forward that will give retailers a further opportunity to benefit from the UK's love affair with Lotus Biscoff, by driving sales in a completely new category.
"There is no denying that the new ice creams are the perfect refreshing treat to satisfy that Lotus Biscoff craving on a summer's day or equally, when customers are looking for a moment of indulgence in the comfort of their own home!"
Lotus Biscoff Ice Cream Sticks are available to retailers in packs of three (90ml), with an rrp of £3.89.