Lotus Biscoff is returning to TV screens this month with a new media campaign featuring an animated cup craving a the brand's biscuits.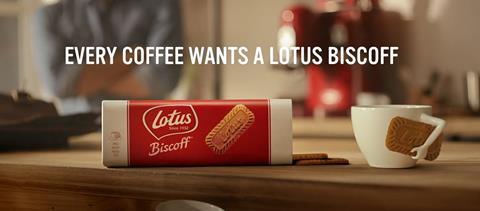 Running throughout June on various channels including Channel 5, Film 4, More 4 and Sky 1 & 2, the campaign is set to further increase awareness of Lotus Biscoff and introduces the amended strapline and global brand positioning of 'Every Coffee Wants a Lotus'.
Frances Booth, category marketing manager at Lotus Bakeries, said: "We are delighted to return to television with a fresh new advert that is both distinctive and fun. By bringing our iconic craving cup to life, we hope to reinforce our new strapline of 'Every coffee wants a Lotus Biscoff' whilst highlighting the lengths that many cups (and people) will go to get Lotus Biscoff in their lives! We knew that Joe Sill's creative talent and attention to detail was exactly in tune with the look and feel we wanted to achieve."
The animated advert is set in a small antique shop and sees the owner prepare himself a coffee whilst opening a pack of Lotus Biscoff. The ad then shows the coffee cup come alive as it tries to snatch the Lotus Biscoff biscuit before signalling to a whole army of antique cups who strive to get a taste of Lotus Biscoff.