Lotus Bakeries is offering consumers a new way to take its biscuit spread on-the-go with the launch of Biscoff & Go.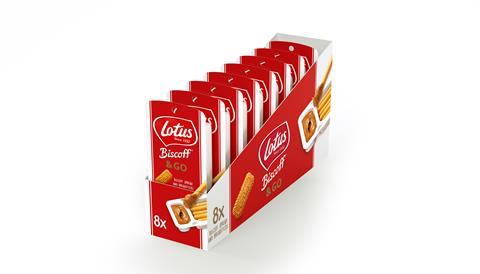 The portable packs (rrp £1) consist of Lotus Biscoff spread on one side and little breadsticks for dipping on the other, giving customers a more convenient, portable format for eating on the move.
Designed to help retailers boost sales in the snacking category, the Biscoff & Go packs can be hung on Euro hooks to create hanging displays or stacked in counter display units to encourage impulse purchases.
Rolling out to convenience stores over the next few months, the range is suitable for vegans, those with a dairy intolerance and made without artificial colours or flavours.
Commenting on the new launch, Frances Booth, category marketing manager for Lotus Bakeries, said: "It all began with a little red biscuit and now we have become a three category brand with the launch of Biscoff & Go rooting us firmly in the food-to-go market and driving sales in a new direction.
"We are delighted to introduce Biscoff & Go in the UK, so that our customers can enjoy the taste of Lotus Biscoff anytime, anywhere and in a handy dunk and go format. Biscoff & Go is the perfect snack and another way in which retailers can benefit from the nation's continued obsession with the unique caramelised flavour of Lotus Biscoff."