Eurostar Commodities is launching Della Terra pizza flour into the UK retail channel, to give retailers access to high protein flour, that can be used to create deep pan and thin crust pizzas.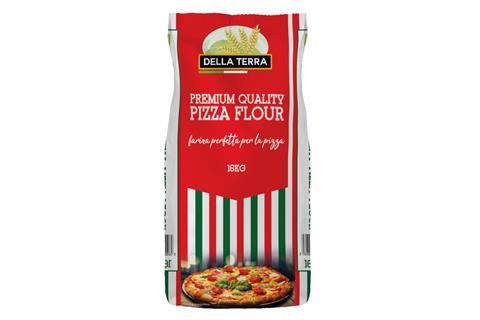 Milled from selected wheats with gluten, Della Terra claims to absorb more water than other flours on the market and has been developed to meet the needs of convenience stores and independents cooking takeaway food in high volumes.
Philip Bull, md for Eurostar Commodities, said: "Absolutely delighted to bring to market Della Terra pizza flour which reliably over exceeds expectations creating a crispy and golden crust and an airy, soft base. This will really add value to the convenience market especially offering fantastic quality at a highly competitive price. We believe this will deliver stand-out pizza that consistently delivers great tasting results time after time."
Davide D'Auria, technical development manager for Eurostar Commodities added: "Our Della Terra absorbs more water than other flours available in this market. This mean higher quality and an increased yield. We recommend at least 600ml water for every kilo of Della Terra flour and this means more dough balls and more consistent high quality pizza. We've also had positive feedback from early customers who tell us that Della Terra is easy to use, and also extremely versatile, perfect for making Italian Ciabatta and Focaccia breads as well."
Della Terra pizza flour forms part of Eurostar Commodities own brand Italian range including peeled plum tomatoes, chopped tomatoes and pizza ready sauce, as well as Fior di Maiella pizza seasonings and Donna Chiara dried pasta.