Goodfella's is rolling out a new £4.2m Made with Respect marketing campaign, designed to support its frozen pizza offer.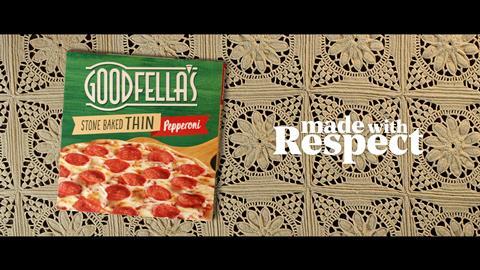 Consisting of a new TV advert, featuring the brand's new The Godmother (La Madrina) character, the activity will coincide with the launch of a new look pack design and improved recipe across the Goodfella's range.
Many of the brand's pizza products will feature more cheese, updated sauces, a larger topping weight and dough improvements.
The Goodfella's line-up includes the following variants: Loaded Deep Pan, Stonebaked Thin, Romano, Vegan, Gluten Free, Takeaway Thin and Takeaway Classic.
Claire Hoyle, head of marketing at Goodfella's (Nomad Foods), said: "We wanted to get to the essence of the brand to understand how consumers really felt about Goodfella's. Our research revealed a deep resonance and recall of our original Italian-American history and many consumers made the association with iconic gangster movies.
"Our rich heritage is something we're really proud of – it's what made Goodfella's famous in the first place. So we're going back to our roots as the foundation, but adding a contemporary twist by taking inspiration of modern movements, in particular the rise of powerful, female characters."
Watch the new Goodfella's Made with Respect ad below.