Unless, of course, you do some selling over the phone.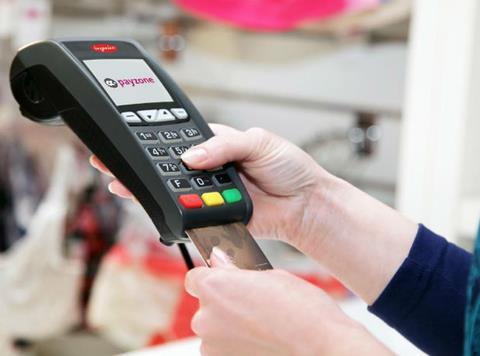 This one's anonymous by request. She wrote that she had an issue with Barclaycard. After three months there was a chargeback from a cardholder from Mexico who said they didn't recognise the transaction. The card was not reported stolen and Barclaycard told her they would cover only half of the £152.89 (the 'customer' had 'bought' fireworks). Barclaycard thought that Payzone should cover the other half.
However, Payzone didn't agree.
In a statement it said: "We have looked into [it] and the merchant has been hit with a chargeback from a fraudulent transaction. We have spoken to the merchant. In summary: Barclaycard has issued them back half the transaction as a goodwill gesture; in usual circumstances they wouldn't get anything back from a fraudulent chargeback transaction, and we will not be issuing a refund for this.
"Our understanding of the situation is that the customer has come in and gone to do a normal face-to-face transaction, when they have been handed the terminal for the pin number they have processed it as customer not present and then fraudulently claimed it back.
"We have removed the customer not present option of her terminal so this can't be done in the future."
The retailer was all for going to the Financial Ombudsman on this one, but I think she should take the offer. And at least it won't happen again on her Payzone terminal.
UPDATE:
19 July 2020: Payzone said that the customer had done a face-to-face transaction but when the terminal was handed over for the pin number they switched it to a customer not present. Later the 'customer' fraudulently claimed the money back.
Payzone did helpfully remove the 'customer not present' function from the terminal. Although that is possibly not so welcome now that many retailers are taking orders over the phone for deliveries.
The retailer has decided she did want to take up the offer so I contacted Barclaycard to see if they would still honour their offer and asked for a statement. This is what they said: "We are sorry that Mrs X has had cause to complain. All 'customer not present' transactions are taken at the merchant's own risk, as the cardholder is not able to authenticate themselves securely. In this case, the payment in question was charged back by the cardholder, as they said that they did not participate in the transaction. However, due to the strength of our relationship with Mrs X, we have offered to cover half of the cost as a gesture of goodwill."
–
UPDATE:
5 August 2020: Kevin May sent in some additional useful material further to the above from his Barton Stacey Stores in Hampshire.
He writes: "As new retailers my wife and I had never heard of this scam until it happened to us. We had asked to be able take phone payments through our TakePayments/Barclaycard terminal to help manage grocery deliveries during the lockdown, and TakePayments switched on the card not present functionality. Unfortunately, we had no idea customers could take over the machine in the manner they do and TakePayments had failed to mention any risks. A few weeks later, twice on the same day, we lost £90 to scammers."
Kevin adds that TakePayments would take absolutely no responsibility for the money lost. "However, after an appeal, Barclaycard refunded the whole £180."
TakePayments did also change some of the settings so that the supervisor card has to be swiped in order for a customer not present transaction to go through. "So if the keypad asks for the card it will alert us to what the scammer is up to."
Got a pressing issue that's hurting your business, call Jac on 020 8502 9775 or email: jac@roper-biz.co.uk.