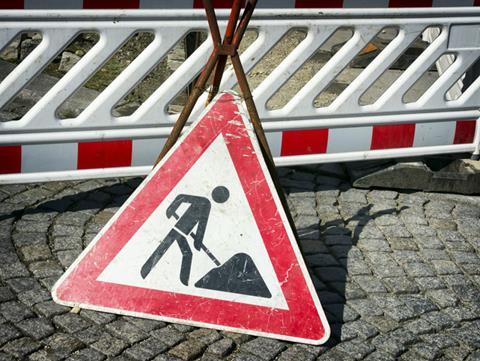 I was contacted on the helpline by Rasiah Thayakaran who runs Rowley News, in Mincing Lane, at Rowley Regis in the West Midlands (and yes, the complete address is pertinent to the story). When he rang there had been roadworks outside his store for six months (actually the work on Mincing Lane had been going on for over 14 months; the six month period referred to the length of time the work had been within 200m of his store).There were also stop-go traffic lights to boot and his business had been eroding badly. He reckoned his profit was down by £24K.
Cadent Gas, he said, dumped all the soil from their digging onto his car park so no one could park there and they put a plastic safety barrier in his garden without his permission. He was told that he could apply for compensation but they also told him it was essential work and couldn't tell him how much longer it would drag on.
And he had bought another business, a coffee shop just around the corner, with planning permission for building three single bed houses, but that work was delayed for more than six months due to this work.
I got in touch with the gas company and a Cadent spokesperson responded: "Cadent has been carrying out essential gas mains replacement work in Rowley Regis.
"This work forms part of our 30-year gas mains replacement programme and the new gas mains we're installing will help ensure local residents keep on enjoying safe and reliable gas supplies until the 22nd century.
"These new gas mains are plastic, upgrading to plastic ensures a long-term safe network and also means we will eventually be able to replace fossil fuels with hydrogen, this switch is essential to meet energy demands whilst protecting the planet.
"The mains replacement project on Mincing Road was complicated by the discovery of a gas escape, which had to be repaired to ensure the safety of the community.
"These works are now complete. We apologise for any inconvenience caused and would urge anyone who has been impacted to contact our customer services team."
I sent this on to Rasiah and he was clearly unimpressed: "Why she didn't mention to you at least some of the following?"
Then there was a long list starting with only two or three workers on the site for around 80% of this project and they seemed inexperienced.
"The workers were digging the land over two times in some places near my shops, because people complained regarding the gas smell as the pipes were not connected properly. The workers disconnected the gas many times without any prior notice (my neighbours had problems with this company on many occasions)."
He says that the workers had broken a neighbour's water pipe "and they didn't have water at all I think for over 24 hours and she had three months old baby (she reported this to company)".
He claims that a Range Rover crashed because of the work and a container blocked the entrance to his coffee shop.
But the work has at last finished and Rasiah has submitted the compensation applications for both businesses.
I have to report that in May 2019 the gas and energy regulator, Ofgem, said Cadent had paid a record penalty of 44 million pounds for failing to properly supply gas to some customers.

Jac Roper is editor for Convenience Store's Dear Jac column. If you've got a retail problem, call Jac on 020 8502 9775 or email: jac@roper-biz.co.uk.