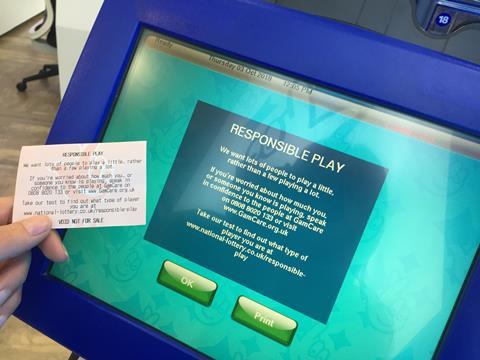 This looked like a thorny one. Kalpesh Joshi, who runs Three Diamonds in Southampton, rang up to say that he had had a customer (known to him) come in and buy £3K of lottery tickets. It was a family syndicate apparently; they had won some money and wanted to win some more. So he didn't regard it as suspicious in any way.
Then he got a phone call from Camelot saying that he needed to pay the money directly to them or they would be turning his machine off. In fact they did turn it off for about half an hour. He said that in 22 years he had never missed a payment. He added: "It's not a lot of money for them but it is for me. I offered a card payment but they said no, do a bank transfer. I had to drop everything and go and do the banking today."
That was on a Friday.
He says he would normally have banked it the following Monday but by the time Monday rolled around he said they had charged him for the whole thing all over again.
He was very disappointed at the way he was being treated.
I got on to Camelot and got this response from a spokesperson.
"When we identify unusually high numbers of National Lottery ticket sales, whether it is for an individual or a small group of individuals, we will take steps to intervene and implement debt protection measures. These controls are in place to ensure that The National Lottery is operated in a socially responsible way – with lots of people playing but spending small amounts – and also to protect the retailer from potential debt exposure.
"Our systems flagged that there was an unusually large transaction at this particular retailer, and so we suppressed their terminal until we were able to gather more details from them about the transaction – and once this had happened we reversed the suppression.
"We would like to thank Mr Joshi for making the account payment as requested, and would like to reassure him that he was not charged twice. A full explanation about the charge was also provided when he called us on Monday, and he was assured that he had only been charged once. He will have also received a letter from us explaining the reasons and his future obligations."

Jac Roper is editor for Convenience Store's Dear Jac column. If you've got a retail problem, call Jac on 020 8502 9775 or email: jac@roper-biz.co.uk.