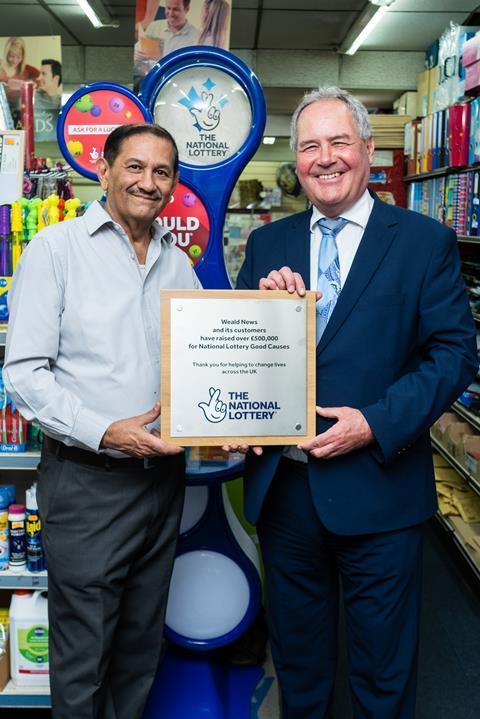 Dipak Gokani of Weald News and his customers have been celebrated by local MP, Bob Blackman, for raising over £500,000 for Good Causes through selling National Lottery products.
Mr Gokani was awarded a National Lottery Good Causes plaque by Bob Blackman MP at a presentation at the store earlier this month, with local Camelot Retail Sales Team representatives also in attendance.
Blackman said: "I was delighted to visit Weald News in Harrow this month to present a plaque in celebration of the huge contribution the store has made to National Lottery Good Causes.
"Shop owner Dipak has been at Weald News for more than 18 years and is a well-known pillar of the community. It is important that where possible we support local businesses, helping them build back stronger following the pandemic."
Dipak said: "I am very proud that my customers have been able to help raise such a huge amount for National Lottery Good Causes, especially given that the money goes to local projects here in Harrow and right around the UK. I've been at this store for 18 years, so it means a lot to have been awarded with this plaque.
"I would also like to thank Camelot and my sales rep. I wouldn't have been able to raise this amount for Good Causes without their continued support over the years."
Camelot divisional sales manager, Karl Southworth, added: "Independent retailers are central to The National Lottery's ongoing success, having been the face of The National Lottery for almost 28 years in high streets and communities across the UK.
"With the ongoing challenges retailers are facing, it is more important than ever to recognise those who go above and beyond to serve their customers and communities.
"Thanks to National Lottery retailers and players, over £30m is raised every week for Good Causes across the UK – going to people, projects and communities at a time where funding has never been more needed."