Haribo makes a return to TV this month in the latest instalment of its 'Kids' Voices' ad campaign.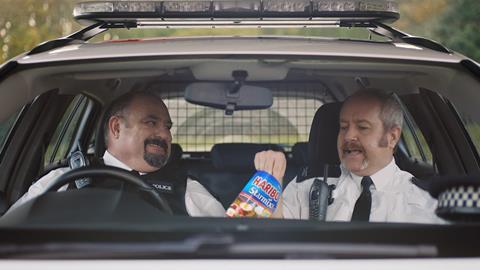 The new 20-second ad captures two police officers on a routine job monitoring the speed of motorists on a particularly quiet stretch of road. Their boredom turns to delight when one of the officers opens a bag of Haribo Starmix, inspiring his colleague to release his inner child, making up a story about cops and robbers using the iconic sweets from Starmix. Each adult character is voiced by kids.
The ad runs from March till July and will appear on video on demand and forms part of a multi-million-pound campaign that will also showcase Haribo's top-selling sweets Tangfastics and Supermix.
Haribo UK managing director Jon Hughes said: "There is a great deal of love for our TV adverts and this latest instalment captures child-like happiness perfectly. We're certainly expecting lots of re-enactments of this latest scene, which features our nation's heroes. The advert is light-hearted, fun and it raises a smile - just like our treats."