Two entrepreneurial retailers are getting in the mix with sophisticated in-store bar offers.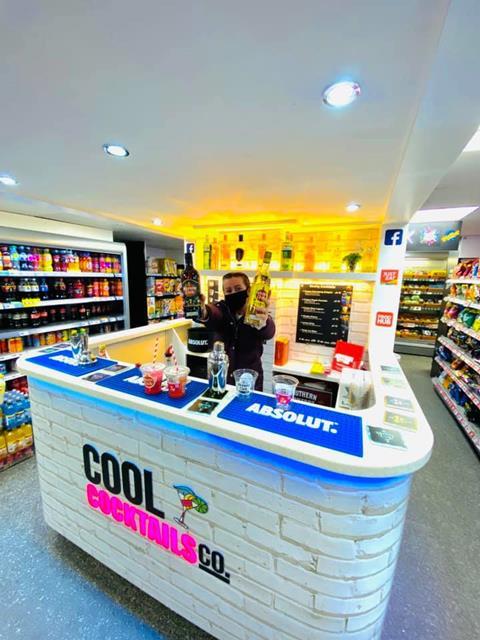 Arjan Singh Rhoud, aka Ajay, is celebrating the success of his in-store Cool Cocktails Co. bar, which sold over 190 cocktails across in-store and online delivery platforms when it launched last weekend.
Ajay spent £8,000 on the bar, which is a central feature at Premier Morley in Leeds. He has worked closely with suppliers to ensure the investment is a success. Booker has supported the concept and the Cool Cocktails Co. brand is complementary to the group's Cool Desserts Co. offer. "Booker has helped us out with training by sourcing a mixologist," says Ajay, "and Pernod Ricard has helped us out with accessories, such as bar mats and mixing equipment."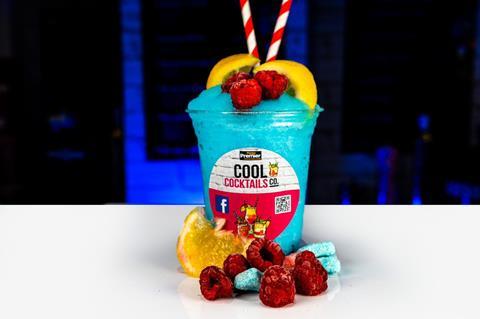 Customers can choose from a range of five classic cocktails, including Raspberry Collins, Espresso Martini, Dark 'n' Stormy and Sex on the beach, as well as six slush cocktails, such as Frozen Strawberry Daquiri and Cheeky Cherry.
"I did a soft launch a couple of weeks ago because I needed staff to get used to how it would be," says Ajay. "All staff are trained in how to make cocktails, including my Mum and Dad!" Drinks are served with garnishes in small lidded plastic tumblers, featuring the Cool Cocktails logo.
He explains that it works out cheaper for customers if they order more. "We offer 10 [of the same cocktail] for £35, five for £20 and one for £4.95."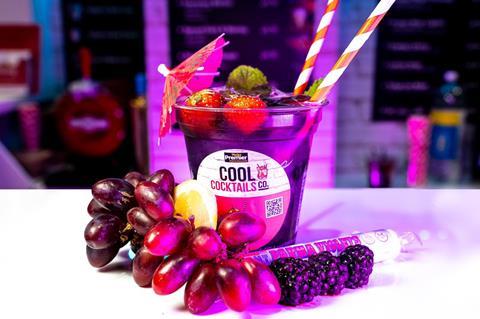 Based on a learning from the soft launch, Ajay is now throwing in a complimentary bag of ice for customers who order in bulk as he realised they don't necessarily want to drink all their cocktails at once. He also has a neat way of ensuring that online orders make it to their destination in one piece. "The guy who designed the bar has made us a cup holder tray which the delivery driver can put in their car to avoid spillages," he says.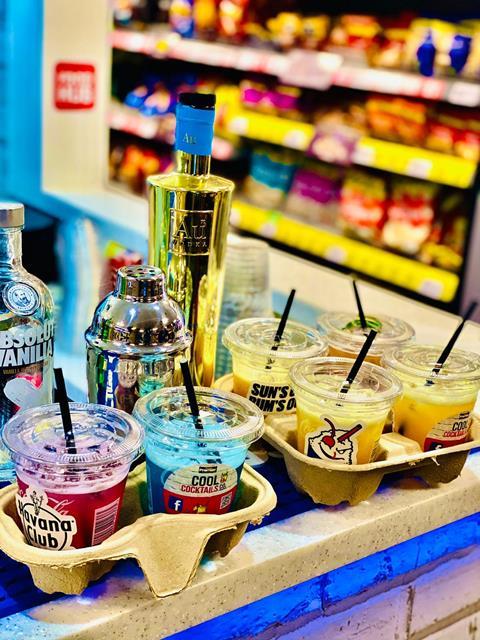 He is confident that the bar will appeal to a wide range of customers. "The cocktail bar will be targeting the younger generation. But even so, we're still dong all the favourites - Mojitos, Sex on the Beach. Even the older generation know about Pina Colada!"
The cocktails make margins of between 60 and 70%. "If you stay the same, you're not getting your margins, you're still working on 25%," says Ajay. "You can't do that now, you have to innovate."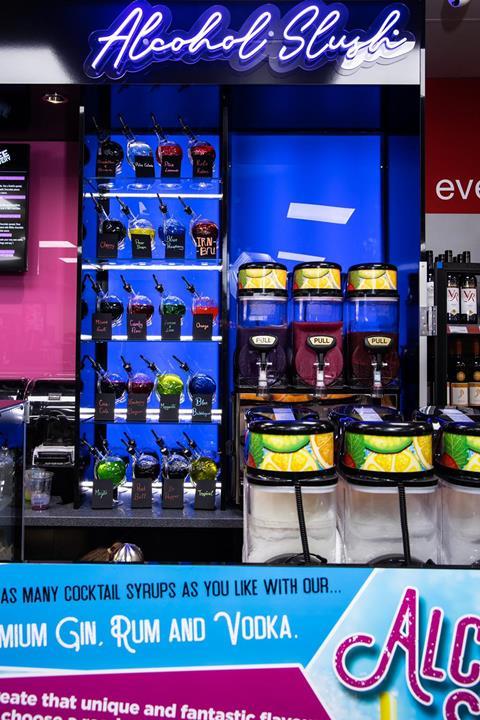 Meanwhile, over in Ashton-Under-Lyne, Mos Patel invested £14,000 on an alcohol slush bar at Family Shopper Broadoak. This includes slush machines costing £2,500+VAT each, £1,000 on syrups, £700 on syrup bottles and over £2,000 on lighting and signage, plus commercial blenders.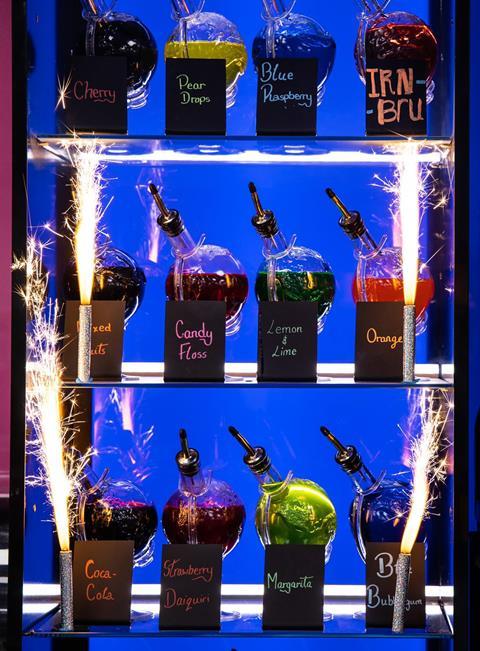 Mos opted for a high-end look with neon lettering and a bright blue backlight to showcase his impressive selection of 25 syrups sourced from Italy. Each is displayed in a £25 designer bottle, with individual handwritten signs. "It's backlit blue like a top-end cocktail bar," says Mos. "Customers love it."
Prices range between £4.50 and £5.50 and there's a 'Typsie Wednesdays' BOGOF deal. Customers can choose as many syrups as they like, plus gin, vodka or rum. The syrup flavours include well known soft drinks, such as Dr Pepper and Coca-Cola, popular cocktails, including Margarita and Mojito, and sweet treats like Pear Drops and Candy Floss.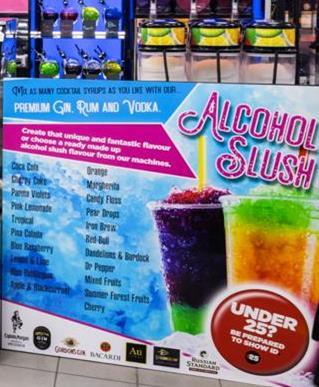 The alcoholic slush drinks can be ordered in-store or through Snappy Shopper and are transported with ice blocks to keep them cool.
"We're selling £350 worth a week through Family Shopper and another £150 through my Premier Heyside store," says Mos, who claims margins are between 80 and 100%. Next, all staff are being trained in traditional cocktail-making by a manager with mixology experience. "We'll launch the cocktails in a few weeks," he says.
Both retailers sell their drinks with lids on and ensure that customers know they are not to be consumed on the premises.