Cranes Drinks has poured its raspberries & pomegranates cider into cans, in an attempt to reduce the brand's impact on the environmental.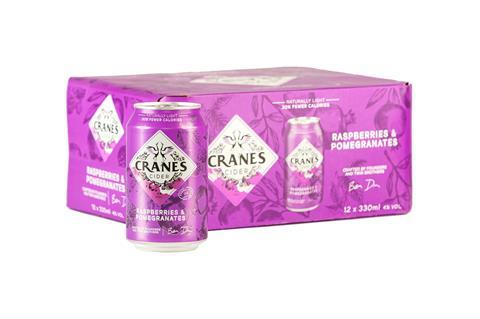 The cider is brewed with apples and Wisconsin cranberries and claims to offer "a crisp, fruity flavour".
Cranes Drinks co-founder, Ben Ritsema, commented: "Consumers are constantly looking for products which fit within their lifestyle, and the can is the perfect fit it is lightweight and quickly chilled. Not only do cans appeal greatly to the consumer, but additionally to stores, cans are lighter and stackable meaning less wasted shelf space"
Cranes raspberries & pomegranates cider is available to independent retailers now, with an rrp of £1.55 per 330ml can. A case of 12 carries an rrp of £18.60 and sits alongside Cranes' full range of 500ml bottled ciders.