Shahid Ahmed, who runs a newly converted Costcutter forecourt in Wednesbury, West Midlands saw sales rise from £5,000 per week before lockdown began in March to as high as £34,000 per week – while daily footfall tripled to 1,000 customers – thanks to pandemic shoppers and a new focus on fresh.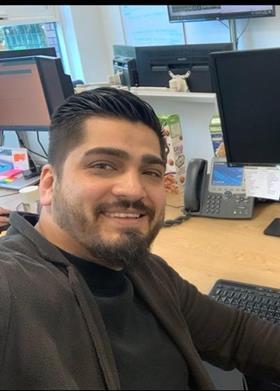 Ahmed was looking to change his symbol group from Premier and when he was considering which group to switch to, Costcutter suggested introducing lines that would suit the local demographic.
"Costcutter noted a lot of 'hand-to-mouth feeders' in the area and said we could do well by introducing some fresh lines that customers would pick up for that evening's meal," he explains.
"Previously we didn't even sell fresh bread or milk so we went from zero fresh lines to around 120 during lockdown, which has been a huge driver in our sales growth. It was such a new category for us that the business development manager Richard Crocker did our first order to make sure we didn't miss anything out."
He says that introducing fresh has been a learning experience for the business.
"We've been selling whole chickens, which I didn't think you could do in a forecourt, but clearly customers don't want the hassle of visiting the larger stores, and now that they're aware of our offering, will make a point of visiting us."
Fresh sales now make up 25% of his weekly turnover (excluding fuel), eclipsed only by tobacco and alcohol. Average basket spend is up from £4.25 per visit (excluding fuel) to a whopping £18.15 per visit, which Ahmed attributes to the premium offering.
"The Co-op products are instantly recognisable. Customers trust that brand and see it as premium. Shoppers are aware of the strengths of brands and if we promote the fact we have Co-op products in store, they'll know the store is stocking what they need, which is crucial when shoppers want to visit as few shops as possible when out."
As well as the Co-op products, Ahmed has been stocking some locally-sourced lines such as curries which offer a point of difference and support other local businesses. "I'm not surprised that the average basket spend is as high as it it, these meals fly out the door, especially with customers who don't fancy cooking that evening."
Though Ahmed has plenty of new customers, they've already become regulars due to his enhanced offering. "Some customers still don't want to go to larger supermarkets because they don't want to queue. There was a small dip when the lockdown was relaxed but we've retained most of the sales increase we saw at the start of lockdown and now average around £30,000-£34,000 per week."