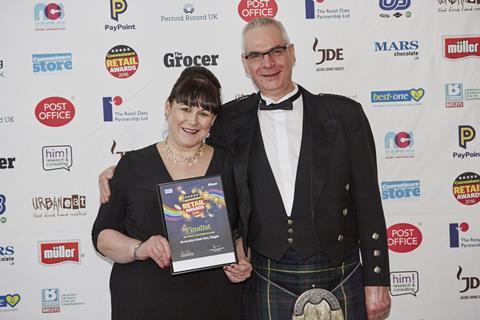 Top retailers Donna and Bruce Morgan have decided to take a break from the convenience sector and have put their Brownlies of Biggar store in South Lanarkshire up for sale.
The couple first took over the store 16 years ago and feel that now is the time to take a break from it all. The 1,837sq. ft store is currently on the market, with the couple hoping to spend more time with their family once it is sold.
Donna explained to ConvenienceStore.co.uk why they are making this change in lifestyle. "The last two years have been tough – for the first four months of the pandemic we were open 24 hours a day and it's taken its toll."
During the first lockdown, Donna managed the daytime shift and Bruce took over for night shifts, also meaning they had little time off together. She says that when others were home-schooling their children, they were working and while they don't begrudge their customers for this, they want to spend some quality time with their children.
"Our sons are 14 and 15 this year and we want to be able to spend some time with them before they get too old," she said. "Exams are approaching and we want to be able to support them as much as possible."
Although the store has only been on the market for three weeks, Donna said there's been a lot of interest but they're keen to make sure the buyer is right for the community. "We've had over 20 viewings but it needs to be the right person who will suit the area and take care of our staff – that's a big priority for us. Our staff have worked as hard as we have and they are part of the family so we want to make sure that who we sell it to will look after them. We spoke to a couple of potential buyers who seemed keen to cut staff and they're not the type of buyer we want."
Donna said that beyond taking six months off, they're not sure what's next. "We don't know what we'll do, perhaps travel for a bit and then maybe take some part-time work to keep busy."
They plan to stay in Biggar but insist that they'll steer clear of the shop when a new owner takes over. "We'll send the children in to do the shopping rather than go in and put them under any pressure. It's important they develop their own relationship with the community as it's vital for the store's success."
They aren't the only retailers to have found the past two years difficult. Research carried out by the Association of Convenience Stores (ACS) last September found that 49% of retailers hadn't taken a day off in the previous year.
Donna predicts that they won't be the only retailers to consider taking a break. "A lot of retailers are in our situation and it'll only be when they take stock of the past two years that they'll realise the impact of Covid-19 on them."