Britain's coffee-to-go boom shows every sign of continuing and, with an increasing number of brands and options available to retailers, the opportunity for convenience stores is very much within reach
Walk down any high street in Britain and it's just a matter of time before you see a coffee shop. And if you enter the shop and look out, chances are you'll be able to see the next coffee shop just slightly further along the same street.

The recent coffee shop boom has been stimulating for the British public - there are now more than 16,500 outlets in the UK, with the major chains growing by about 100 units a year. But coffee consumption as a whole is not rising at anywhere near the same rate - what is changing is the way people drink their coffee, and c-stores have a growing opportunity to cash in.

Many stores - particularly on forecourt sites - are already doing good business in hot drinks to go, but many of the major providers now see standalone stores as the next untapped market. Most of the suppliers agree that 10 cups a day is the minimum order to make a machine solution work, but there are entry-level options that pay back on single-figure sales, too.

Lynn Little, standard ingredients lead at Nestlé Professional, believes that c-stores could be one of the main growth areas in out-of-home hot drinks. "One in three people now buy on the go coffee at least once a week and, according to Allegra Strategies, the out-of-home coffee market has seen an 11% increase in turnover year on year, and two-thirds of this is from non-specialists, including fast food outlets such as McDonald's, but also c-stores. It means that a c-store is just as likely to add to market growth in the future as a coffee shop," she says.

The company recently introduced the latest version of its Nescafé & Go hot drinks machine, redesigned to bring it more in line with what shoppers and retailers expect a modern coffee dispenser to look like, while still retaining its simple, entry-level values.

The cost of the machine is £99 plus VAT. "It's plug and play," says Little. "You take it out of the box, plug it in and start earning money straight away."

The average sales for the Nescafé & Go machine are just under 10 cups a day, any more than that and you might want to consider trading up, says Little.

"We believe that once you get to about 15 cups a day people view you as a destination for coffee, so you might need a small beverage solution such as our Alegria machine," she says. "These blend the drinks for you, as well as giving you the advantage of being able to vary the drinks menu.

"Obviously, there is a higher outlay for a machine solution, but the return on investment pays back through a higher retail price per cup. Nescafé & Go typically sells at £1-1.10 per cup, whereas a machine solution coffee is likely to retail for nearer £1.50."

There are further margin opportunities too, she explains: "If you can do coffee well, it opens up the possibility of doing food to go as well, leading to a higher overall basket spend. Also the Nescafé & Go machine has a Maggi soup option, giving you a product to sell at late morning or lunchtime."

While out-of-home coffee sales generally peak at about 11am, c-stores' long opening hours create an additional opportunity, she adds. "If a store is open early, for example because of the newspaper sales, nowhere else nearby might be open. Some stores see their maximum sales between 5-7am because nowhere else is open."

But while the opportunity is great in the marketplace as a whole, a responsible supplier will help each retailer decide whether it is right for their particular store, points out Peter Brooks, head of concepts at Tchibo Coffee International.

"We always discuss the customers' needs and assess the local market in order to make the best possible recommendation, and will only proceed if it is viable based on a fact-find survey," he explains. "Unfortunately, not every c-store has the market for coffee on the go, so completing the survey is the first step in ensuring success. But with approval following a successful survey we can offer free-of-charge trial for the first month."

According to Tchibo, the average number of sales per day is 16, but the range is huge - from 10 to over 100. "In financial terms this average could bring the retailer more than £10,000 revenue from a 7sq ft foot space," says Brooks. "The opportunity is growing with the increasing demand for high-quality coffee on the go. This has been well proven in forecourts for many years and increasingly becoming an expectation in non-forecourt c-stores.

"Looking at the trend set by forecourts, it is clear that consumers prefer freshly ground, bean-to-cup coffee from a fairly large, well-presented cabinet. Having a cabinet of scale is also important for impulse sales by making it easy to see and use. Our flagship Tchibo to go! system fits all these criterion and is profitable from about 10 cups per day. It really is essential to do at least 10 cups per day; not only for profitability, but also to ensure product quality."

Ambitions for convenience

New company Pronto Coffee has only a handful of coffee towers in place, but sales and operations director Claire Walter is on a mission in the convenience sector. "We want to democratise coffee on the go and demistify it for the retailer - creating a convenience coffee revolution," she tells C-Store, boldly. "The c-store sector is somewhat undeveloped and we want to reach out and connect with consumers through this sector.

"We're seeing a change in habits among consumers, with more and more people having trust in the quality they can buy locally, and coffee should be part of that. Customers shouldn't need to compromise on quality. They want their money to go further, for sure, but it's about perceived value, and c-store retailers can serve high street-quality coffee, cheaper than the high street chains."

To back up this vision, Pronto aims for the best product quality and a strong relationship with the retailer. "The quality of beans is fundamental, the correct temperature is fundamental and milk system is fundamental to delivering a good quality cup. Latte is the most popular coffee drink, so we make sure we find the right blend of beans for that.

"We're realistic about volumes, it's not just about selling 50 cups a day," she continues. "We see the minimum as being 10 cups a day, but you are earning on every cup. And if you can build your reputation for selling good coffee, the opportunity becomes a lot greater."

And Pronto's revolution will be a patient one. "Coffee doesn't sell itself, you need to build slowly with tastings, loyalty cards and so on. So we want to work closely with retailers to help them offer a quality product that customers will come back for time and again."
Option one
The entry level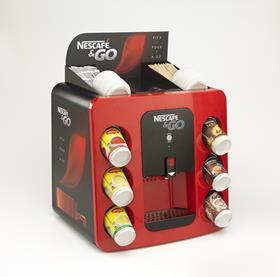 The Nescafe & Go machine is a hot water dispenser with a 4.2ltr water tank, enough for 15 cups. No plumbing is required. Cups containing dry product are purchased separately including Nescafe coffees, Aero hot chocolate and Tetley tea.
The machine costs £99 plus VAT and cups cost a little over 30p each.
Option two
The megabrand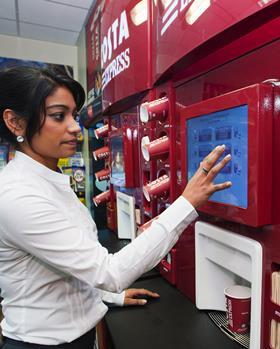 Costa Express now has more than 4,500 machines in 'on the go' locations and claims to be the UK's number one coffee brand. Forecourt stores make up the majority of this marketplace, but Costa says convenience stores have been the latest growth area.
Based on a revenue share model, the Costa Express machine is free from any financial outlay for retailers other than water and milk, and once the semi-skimmed milk has been provided Costa Express supplies the same beans, syrup flavours and hot chocolate found in Costa high street coffee shops.
Support is provided via intelligent telemetry, using remote monitoring to track usage and identify issues and faults such as low milk or out-of-service messages that can be responded to quickly.
Option three
The supported solution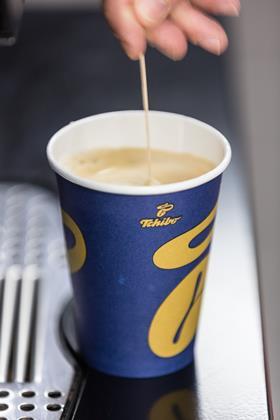 Tchibo provides a full site survey, professional machine installation and launch support.
"With approval following a successful survey we have the confidence to offer a no-obligation, free-of-charge trial for the first month," explains head of concepts Peter Brooks. "We supply POS material such as pavement signs and weatherproof wall-mounted signs as well as posters and promotional material to launch Tchibo to go! in store. We find it works best if regulars are offered a free sample in the first week, then a coffee for £1 for their next drink, as well as loyalty cards.
"The simplest and most popular business model is our profit share where we supply everything free of charge (except electricity, water and milk) and share the revenue with our retailer based on the cup sales achieved. However, we can also offer a fixed daily rate if greater flexibility is required."
Option four
Something different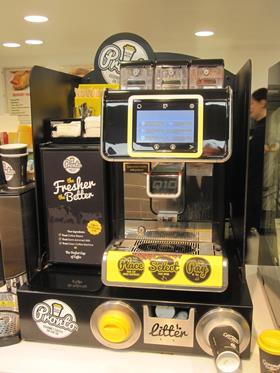 Pronto Coffee is less than two years old, but is making headway in a small number of c-stores, with machines in place at Budgens and Londis stores west of London, including food-to-go pioneer Arjan Mehr's store in Bracknell, Berkshire.
Installations are based on a revenue share model, or operators can lease the machine while Pronto supplies the coffee. Alternatively, retailers can buy the machine outright.
The model allows flexibility over price per cup, but it is intended to be an added-value product, while still priced below high street coffee shops. The most common price is £1.95 per cup (at Arjan's store it is £1.85).