UK health professionals continue to advocate the use of legal vaping devices as quit-smoking aids, despite Walmart moving to end e-cigarette sales in the US amid a deepening health scare which is being linked to vaping.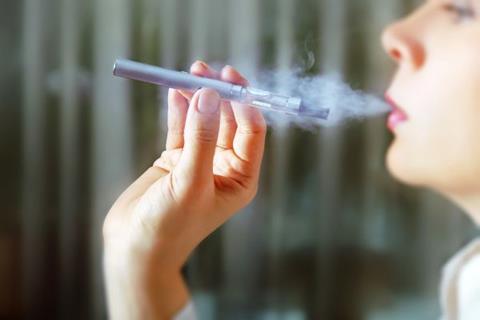 This week Asda owner Walmart said it would stop selling electronic cigarettes (e-cigs) in the US following a spate of deaths which have been linked to vaping.
The retailer, which operates over 11,200 stores in 27 countries, said its decision in the US was due to new "uncertainty" about the rules governing e-cigs, following recent reports of more than 500 cases of lung injury and eight deaths.
Responding to the reports last week, US President Donald Trump announced plans to ban the sale of all non-tobacco flavoured e-cigs, which have also been linked to increasing teenage use in the US.
Walmart, which already discontinued the sale of fruit and dessert-flavoured e-cigs earlier this year and raised the minimum purchase age to 21, said all e-cig sales would cease as soon as it had sold through its remaining stocks.
However, in the UK, where the legal e-cig market is tightly regulated by the Medicines and Healthcare Products Regulatory Agency (MHRA), Public Health England continues to advise that, based on current evidence, e-cigs are 95% safer than cigarettes.
"Our advice on e-cigarettes remains unchanged - vaping isn't completely risk free but is far less harmful than smoking tobacco," a spokeswoman told Convenience Store.
"There is no situation where it would be better for your health to continue smoking rather than switching completely to vaping," she added.
Commenting on the developments in the US, UK Vaping Industry Association (UKVIA) spokesman Dan Marchant said: "Whilst details remain unclear, it appears that the incidents in the US are linked to people using illegal liquids, most likely black-market marijuana products (THC oils).
"Products such as these are illegal in the UK, which is why there have been no similar cases reported here and why there is no link to the flavoured, nicotine based vaping products smokers are using to quit.
"It is a shame that the US President has been poorly advised on the facts; this decision is based on misleading information and will only serve to deter smokers from making a life changing switch to a far less harmful alternative.
"Flavours play a hugely important role in encouraging smokers to switch to a less harmful product, and crucially in providing enough consumer variety to ensure those smokers stay switched," he added.
"At the same time, there is no evidence of any link between flavours and youth vaping; in the UK recent stats show that rates of vaping amongst young people remains at less than 2% and is almost exclusively confined to those youths who regularly smoke."
JUUL UK sales director John Patterson also moved to reassure UK retailers and vapers. "In the UK products have to undergo rigorous testing before they are allowed to hit the UK's legal market and that should give retailers and vapers comfort amid all of these negative headlines stemming from the US which is regulated entirely differently," he told Convenience Store.
BAT director of scientific reserach Dr David O'Reilly added: "To the best of our knowledge, we are not aware of any Vype product being linked to these recent cases and we can confirm that no Vype product contains, or has ever contained, either THC oils or Vitamin E Acetate.
"We remain of the view that our Vype products offer consumers a potentially reduced risk alternative to smoking and we advise our consumers to use them in line with the intended use and do not tamper with the product in anyway."
Last week India also announced plans to ban the import, production and sale of e-cigs.
The Indian government approved an emergency order, drawn up by the health ministry, that would make the possession of an e-cig an offence, punishable by a fine and up to six months in prison.