Sales of plastic-packed 'bags for life' have soared by 30% in the past year as UK shoppers increasingly buy them as replacements for single-use bags, a new study by the Environmental Investigation Agency (EIA) and Greenpeace has revealed.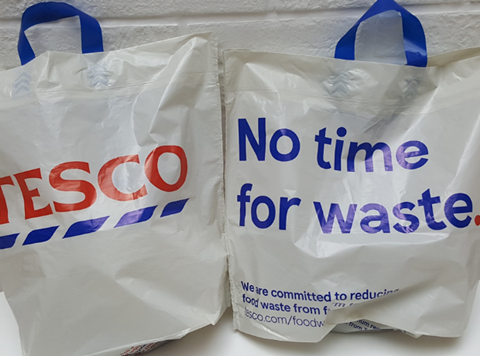 The number of bags for life - which typically contain three times as much harmful plastic as 'single-use' bags sold by eight of the UK's leading supermarkets and discounters hit 1.24 billion in 2019, up from 960 million bags in 2018.
The EIA and Greenpeace are now calling on retailers to raise the price of their bags for life to 70p or to ban them outright.
The "worst" performers on bags for life were Iceland, Tesco and Aldi, the report said, with Iceland reporting "a near ten-fold increase in bag for life sales, from 3.5 million in 2017 to 34 million last year".
Tesco and Aldi both saw jumps in bags for life sales of nearly two-thirds, to 713 million and 84.6 million respectively, with Tesco's annual sales representing almost 11 bags for life for every person in the UK, the report added.
The Co-op also reported an increase in sales from 28.2 to 29.2 million.
Sainsbury's, Waitrose and M&S reported small declines in bag for life sales while Morrisons, which increased the price of bags for life to 30p in 31 stores as part of a trial, recorded a significant fall of 37.7%.
A 90% reduction in bags for life sales has been achieved in the Republic of Ireland, by setting a charge six times higher than the price consumers reported that they were willing to pay, at 70 cents, the report claimed.
The findings on plastic bags follow claims also by the EIA and Greenpeace this week that sales of plastic water bottles at eight UK supermarkets rose by 8.2% year-on-year last year.
Greenpeace UK ocean plastics campaigner Fiona Nicholls said: "Bags for life are increasingly being treated as bags for a week – fuelling rather than fixing our plastics crisis.
"You wouldn't throw out your rucksack after a week, so we shouldn't chuck out our shopping bags.

"Despite pledging plastic reductions, supermarkets are pumping out more plastic than ever - and so-called bags for life are a symptom of that. Retailers must raise the charge to 70p and, if that fails, move towards a complete ban on plastic bags for life.
"The 5p bag charge had been celebrated for driving down single-use bags by 83% . But the survey suggests that customers are simply buying and throwing away bags for life instead, which contain even more plastic.

"In efforts to cut down plastic bags, retailers must avoid swaps to throwaway paper bags, which drive deforestation and contribute to our climate emergency. Instead, supermarkets must sell suitably priced, genuinely reusable bags to encourage shoppers to use and reuse the bags they already have."
The survey found that UK households go through 54 bags for life each year on average.