Convenience retailers keen to join the "refill revolution" are being offered a new route in, with the help of new social enterprise LocoSoco which offers a wide range of refillable household products at value price points.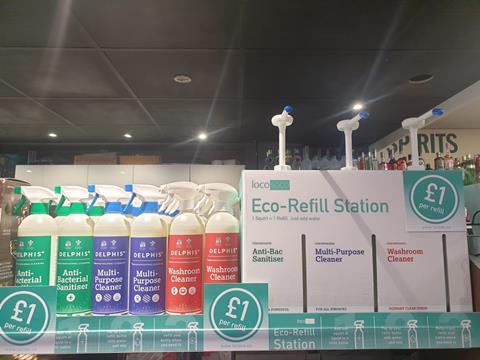 The solution, launched in partnership with Delphis Eco, allows shoppers to buy a range of concentrated ecological cleaning "shots" for £1 and offers convenience retailers a profit on return of 75%.
Just over 30 stores are already stocking the new refill offer, but the company expects this figure to soar in 2020 following the official launch of a new online platform MyEco.Site which will allow retailers to extend their offering with over 300 eco-friendly "challenger brands".
LocoSoco chief executive and founder James Perry told C-Store: "Convenience retailers are the heart of their communities and can lead real environmental change but we understand that there also needs to be an incentive to do so, especially in the current climate where they may be a bit more reluctant to take risks.
"Our Eco Refill stations do more than just save plastic, they also offer retailers 75% profit on return and save shoppers money on quality eco-friendly products too."
Sid Sidhu, owner of St John's Budgens in Kenilworth, has just started stocking three products from the range of refillable cleaning products, which he said was already "causing a stir among local shoppers".
The refill shots, which cost retailers 12p, are sold for an rrp of £1.00 and the range is fully branded and supported with eye-catching point of sale.
"I think that with the right advice, support and products, refillable goods could be really really big for the convenience industry, but support will be key to that if its ever to become anything other than a limited offering. This new system is certainly going the right way about changing the game though," he said.
Just over 50 stores are also in the pipeline for the new online platform which will offer each retailer a free personalised web page where shoppers can order from a large and growing range of eco-friendly, ethical products from other quality "challenger brands."
Orders placed via the website will be delivered to stores on pre-set dates for customers to collect. The company is also offering retailers help with their social media presence.
"The growth of high street chains, online shopping and economic uncertainty have created a perfect storm of challenges," Perry added.
"Our popular eco products with strong margins could go some way towards making a difference. Throw in a free online shop for your store and we are starting to level the playing field," he added.