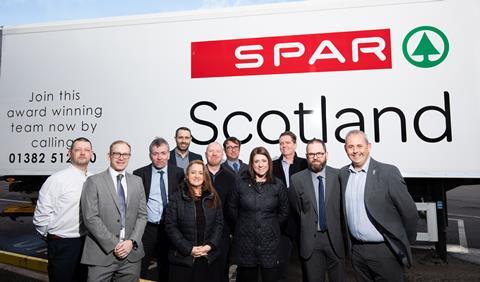 Spar Scotland has embarked on a new retailer recruitment drive as part of plans to grow the business and accelerate its transformation plans.
The Scottish wholesaler and convenience retailer has expanded its sales team in an effort to recruit new retailers from across the country. As well as recent hires Craig Lynn and Neil Ogilvie, who look after independent Spar retailers with wholesale sales director Steve Irons, the business has hired Jane McCulloch as a Business Development Manager (BDM).
On her new role, Jane McCulloch said: "I've been working in retail for 22 years having started with Asda whilst studying Retail Management at Glasgow Caledonian University. I worked for various retailers during my career including previous time at CJ Lang where I enjoyed 7 years with the family run business. To widen my skill set I moved on to work at United Wholesale Scotland followed by the last 4 years with Costcutter Supermarket Group. I am delighted to have returned to CJ Lang where my independent retail career started as I firmly believe SPAR are the strongest brand within the convenience sector in Scotland."
Steve Irons added: "The transformation of our sales team is very exciting. We are always searching for great people who are sales driven and passionate about independent convenience retailing. We want to give our retailer customers the best support, so they have the confidence to invest and grow their business with us. We are eager to hear from retailers across Scotland as we embark on this new recruitment campaign."
Other recent investment includes a new fleet and stores with the roll out of new refrigeration and refurbishment works about to commence in key company owned stores.