The introduction of Minimum Unit Pricing (MUP) in Scotland has led to a fall in the amount of alcohol purchased by households, a new study published in the British Medical Journal (BMJ) suggests.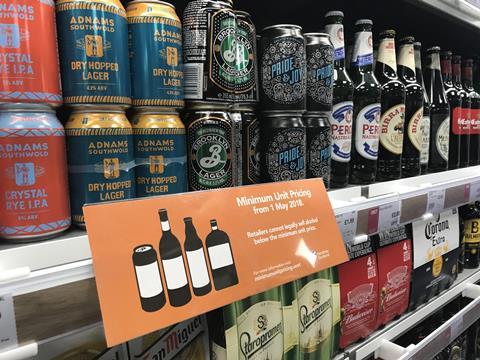 The study analysed the purchasing behaviour of 5,325 Scottish households before the introduction of a MUP at 50p per unit in May 2018, until the end of the year.
It also included 54,807 English households as controls, and 10,040 households in northern England to observe potential cross-border effects.
It found the amount purchased per person per week fell by 1.2 units - the equivalent of just over half a pint of beer or a measure of spirits.
The increase in purchase price was higher in lower income households and in households that purchased the largest amount of alcohol.
The English households were used as a control group to measure what would have happened if there had not been a minimum price in Scotland.
While households in England increased their consumption slightly, Scottish purchasing fell.
The largest reductions in consumption were found for beer, spirits, and cider, the BMJ said.
Given that these categories include the own-brand spirits and high strength white ciders that MUP sought to target, the data suggested "that the policy had achieved its ambition to make relatively cheap and strong alcohol less affordable, which in turn should positively impact public health over time," the BMJ said.
"Our analyses indicate that MUP is an effective policy option to reduce alcohol purchases, particularly affecting higher purchasers, and with no evidence of a significant negative impact on expenditure by lower income groups.
"Our data supports the introduction of MUP as an effective policy option in other jurisdictions."
Blantyre-based Family Shopper retailer Mo Razzaq said he had noticed a decline in sales of multi-packs since MUP was introduced.
"Bigger packs are definitely selling less but there has been a positive impact on margins and it's now a much more level playing-field," he added.