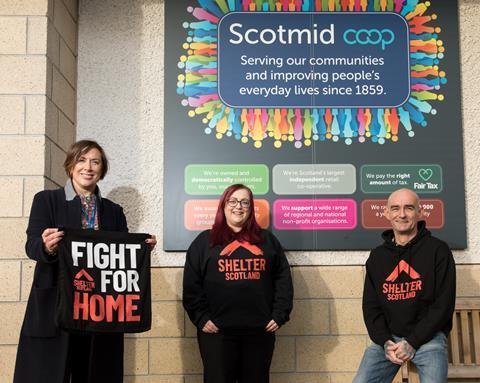 Scotmid Co-operative donated £52,000 to over 80 charities, helping to ensure that as many people as possible have food and shelter through winter.
The support is part of Scotmid's Winter Giving campaign, with a focus on helping those dealing with food poverty, as well as organisations that tackle homelessness.
Lynne Ogg, North communities manager at Scotmid, said: "Winter can be tough for many people, especially for those who rely on foodbanks or who may be struggling with homelessness. It is important for us to support the causes that directly help people in these difficult circumstances across our local communities. We hope the funding has helped to make winter a little easier for people across Scotland."
Shelter Scotland (Aberdeen and Dundee), which offers advice, support and legal services to those struggling with unfit housing and homelessness, received a £2,500 donation from Scotmid.
Claire Taylor, regional fundraiser at Shelter Scotland, said: We are incredibly grateful to organisations like Scotmid who support community giving to good causes like ours. Our work supports people, families and children across Scotland to ensure every single person, regardless of age and situation have the support they require both in the immediate and long-term. In addition, we work tirelessly to keep people in their homes, preventing homelessness and dealing with issues for people affected by bad housing. We want a Scotland where a safe and permanent home is a right not a privilege."