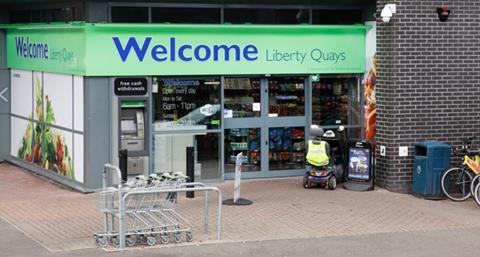 A retailer has introduced new online technology that allows customers to search his stock levels in real time via Google.
Richard Inglis of Co-op Welcome in Southampton has begun working with retail technology business NearSt to help show his customers what he's stocking in real time.
The NearSt technology works by connecting to a store's inventory management system and retrieves barcodes, prices and stock levels every few minutes. NearSt then uses this to automatically generate product listings that are fed into Google and targeted at shoppers searching for those products nearby.
This technology come at a time when Google is reporting an 8,000% increase in shoppers searching for 'who has ___ in stock', as part of a pandemic-driven shift towards going online to find things locally. Inglis said that the reason for introducing NearSt is to help drive more footfall from online shippers. "We want to give people searching the online market the assurance they can easily get items they need in our stores."
The technology is already driving results for Richard's stores. In January and February Co-op Welcome's products were seen in local search results 380,000 times, and over 4000 shoppers went on to seek out further information by clicking on the product, calling the shop, or getting directions to the store. NearSt's technology calculates that this has driven over 550 customers in-store during January, February and March.
Richard was surprised by just how often his local customers were searching for his products online. According to NearSt, tofu, whisky and antiseptic cream were among the most popular products searched in the area. However it's not just niche, alcohol and distress products showing up in searches, with staples such as Lucozade receiving over 800 views during the two months measured as customers looked for local availability.
The new technology also showed which products were popular and that every single product in-store was viewed at least once by customers nearby.
Of the technology, he said: "NearSt is a lot more productive than other forms of advertising; it's simple and direct. It gets products in front of local customers as they're searching."
NearSt co-founder and CEO Nick Brackenbury added: "Getting your products into Google expands the catchment area of a store and brings in new customers. When people are looking for a specific item and they know a store has that item in stock, they will often travel past the closest destination to get there."