Whether it was new products and suppliers, latest industry trends, expert advice, networking, or just great ideas for your store, NCS had something for everyone. For those who missed the seminal annual event at Birmingham NEC at the end of March, here are some of the highlights, starting with a round-up of the Live@theCounter sessions.

Invest for success

Invest in your store before the competition comes along, advised Londis retailer Steve Bassett and Paul Courtney, new business development director at Londis.

Weymouth retailer Steve, who owns four stores, has embarked on three refits in the past six months and urged his fellow retailers to follow suit. "I was talking with one of my managers and we were saying 'what if a Morrisons M Local opens up? Why are we waiting? Why aren't we looking at it now?'"

Courtney stated that the average refit cost was £35,000 and that this had the potential to deliver a 15% sales uplift. "The biggest investment you can make is in refrigeration, so look at what the mults are doing in that area - they are expanding their chilled ranges and we need to keep up."

He advised retailers to think like a shopper when planning which areas to invest in. He also urged them not to be tempted to wait until the arrival of competitor stores forced them to invest.
Retailer testimonials

"The show is great for meeting exhibitors, checking out new products and talking to people and finding out what's happening in the trade."

Hitesh Kapuria, Sweet Time, Watford

"You get reps visiting in-store sometimes, but you are never able to fully concentrate as you have so many jobs to do; at the show you can give people your full attention. We always get a nugget of information every year – for example, I've already seen Mondo's wheelie baskets, which I'm looking into for our Hassocks store."

David Knight, two Budgens stores in Hassocks and Henfield, West Sussex

"Going to the show has given me a day out of the office and an opportunity to meet new suppliers and hear other retailers' stories. I took over my dad's business five months ago and our turnover is already up £2,500 a week. It's going to these events that drives us to get there."

Raaj Chandarana, Tara's News & Brindley Avenue Post Office, High Wycombe, Buckinghamshire

"For me it's all about the networking. Having so many inspiring retailers and key suppliers under one roof is an opportunity too good to miss. This year I'm keen to meet as many e-cigarette suppliers as I can as the category is in huge growth."

Raj Aggarwal, Londis Wigston, Leicestershire

"We're just about to open a new store so we're looking for ideas that will set it apart from the competition. We're also looking to work more in partnership with manufacturers so it's great to be able to meet them here in person."

Clive Sheppard, Chartman Group, Cornwall

"I came for the great range of suppliers. PayPoint was very helpful with an issue we've had so it's worth it to see suppliers face to face. The Live@thecounter sessions were also very informative."

Susan Connolly, Connolly's Spar, Wiltshire

"The show has been really interesting and there are a lot of great products on display. We'll be going back to our store with a lot of new ideas and plenty of homework to do!"

Clara De Peito, Andres Store, Chiswick, London

"NCS is a fantastic way to open your eyes about that's out there. I've met new suppliers I wouldn't have found otherwise. Everywhere I look I see stands and think 'How can I use that in the store?'."

Adam Hogwood, Budgens Broadstairs, Kent
David vs Goliath

Linda Williams of Broadway Convenience Store in Edinburgh urged retailers to get to know their local authorities at the David vs Goliath session. "It's key for all retailers to know their local MPs or MSPs and councillors, and get them on-side by showing them what you do for your community," she said.

She claimed that her strong relationship with her local MSP and councillor had made a big difference when Aldi made an offer to purchase nearby land, which was previously earmarked for affordable housing.

She urged retailers not to rest on their laurels in similar circumstances. "Get in touch with decision-makers and shakers in your district. If your councillor doesn't know anything about you, it's a hard sell," she said. "Ours knows that our store is a force for good.

"Get customers involved, too. Sell them the benefits of your business and the consequences for all the businesses in your area if the new store were to open up. You need to mobilise other local shopkeepers as well and get them working with you."

Convenience Store's Chilled Champions

Retailers must have a strong chilled offering if they are to remain competitive, claimed the Chilled Champions at their session.

"Developing chilled ranges can be risky in convenience. However, chilled is where it's at," said Naomi Hunnisett-Bees, category manager at Kerry Foods. "If we combine chilled with fruit and veg, it accounts for a quarter of sales."

The most important category to get right is milk, stated Barry Cuthbertson, sales development manager at Müller Wiseman Dairies. "The number-one top-up driver is fresh milk, so having a full range of whole, semi-skimmed, skimmed and 1% milk is key."

Grouping chilled products in accordance with shopper missions could also have a major impact on sales, noted HIM client manager Jennie Milner. "By grouping missions we can make it quicker and easier for the shopper and they'll have a better experience. So within meal for tonight, we've blocked together scratch-cooking ingredients such as meat and vegetables, and then blocked ready meals together."

In the same way, Müller Dairy's senior category manager Rebecca Oliver-Mooney advised retailers to split yogurts into everyday goods, healthy desserts, and more indulgent options.

State of the c-store nation

The State of the Nation session summed up the key elements that shoppers desired from their local stores.

Top-up remains the number one shopper mission in convenience stores, but it's no longer enough to simply offer bread and milk, HIM senior research manager Blake Gladman told the audience. "A really credible fresh range is the bedrock of a larger c-store," he said. "If you're going to do fresh you have to go for it and have a good offer."

Convenience Retailer of the Year David Charman, who has spent the past year turning his Spar Parkfoot forecourt into a fully-fledged convenience offering, agreed: "You can't go into it half-heartedly with just a few bananas. Customers want to see a full range and the moment they see it their trust is transformed."

Technology was also in high demand from shoppers, according to HIM's research. "Shoppers are telling us they want technology integrated into their shopping experiences to make it as easy and efficient as possible," said client manager Sarah Ashworth.

Tara News owner Raaj Chandarana supported this finding, claiming that his customers were big fans of the store's Facebook page, which he uses to flag up in-store promotions and community news.

Community engagement was another area that shoppers valued highly, said HIM. Nisa retailer Rav Garcha concurred: "As a consequence of being local and having local staff, the aspect of civic leadership is very important."

Make Space for the Next Case - Heineken

Core range versus innovation within the beer category was debated by top retailers Raj Aggarwal and Dennis Williams, along with Heineken's Craig Clarkson, at the Make Space for the Next Case session.

With the top 10 beer brands making up 55% of sales within the category, it was vital that the core range was not overlooked, Clarkson pointed out. However, innovation accounted for 37% of category growth in 2013, so you can't always stick to the same products, he added.

Raj emphasised the importance of retailers knowing when it was right to focus on core items and when to look at innovation. "At the start of the week, core is more important, but closer to the weekend - weather depending, of course - newer products become more in demand and you want to help your customers trade up to increase basket spend."

Dennis Williams urged fellow retailers to be more disciplined when it comes to their range. "You need to be checking your epos regularly to find out what's selling, and work with your reps to find out what new products are out there and how much space they should be given," he said.

What's your mission?

Tapping in to shopper missions is the key to maximising basket spend, according to HIM senior client manager Ed Sibley and Coventry retailer Paul Cheema. While Sibley emphasised the importance of the three main shopper missions - newsagent, top-up and food to go - he offered the growing opportunity within meal for tonight to counteract the increasing competition in these areas from discounters and coffee shops.

Paul Cheema said he was looking at the opportunity afforded by the big occasion theme which, he said, was missing from the convenience sector. He is currently working with two suppliers around the World Cup, creating a Mexican theme. "It's about planning ahead and delivery. Instead of giving shoppers what we want, we have to give them what the shopper wants, and that's what increases basket spend," he said.

Forecourt update

The main issues facing the forecourt industry were debated at this session, hosted by Forecourt Trader editor Merril Boulton.

Business rates are one of the biggest threats to forecourt retailers, according to Petrol Retailers Association (PRA) chairman Brian Madderson. He urged retailers to find out more about the discount scheme for 2014/15 and 2015/16, which offers discounts of up to £1,000. He warned that many local authorities were "still in denial" about the scheme and that if forecourt retailers were having trouble accessing information about the scheme, they should contact the PRA.

Meanwhile, HIM's Blake Gladman explained the importance of diversifying within the forecourt sector. "The channels are blurring and merging, and customers want a one-stop shop where they can get everything under one roof," he said. "There's been a 14% year-on-year increase in symbol forecourts, which has raised the quality of the sector, and they are becoming a destination for shopping rather than just fuel and top-up."

Be cool with food to go

Richard Tyler, customer marketing controller - impulse at Kerry Foods, was on hand to explain how retailers can make more from their chilled food-to-go offering with just some simple changes.

"Food to go isn't just lunch," pointed out Tyler. "Some 10.8 million people buy breakfast on the go every week, and food to go drives 14% of visits to convenience stores, making it the fastest growing customer mission."

Although HIM statistics state that 31% of consumers believe that the food-to-go offering in convenience has improved, Tyler believes there's more opportunity to be had in the category. "Some 32% of consumers said they would visit their local convenience store more often if they knew that the store's food-to-go offering was better."

He advised retailers to look at the US market when it comes to inspiration in food to go, and think beyond sandwiches. "Create a meal deal offering, focus on fresh produce, make the fixture easy to shop and, above all else, shout about your offering," he said.

Enemy on the streets - JTI

The dangers of illicit tobacco and the harmful effects on the industry were highlighted by JTI's Jeremy Blackburn.

Warning of the dangers to convenience retailers, he called for more action against criminals who distribute illicit tobacco. "It's a well-known fact that the UK is rife with illicit tobacco and that £7m a day goes into the pockets of criminals, rather than retailers or the government," said Blackburn. "We need to do more about it."

He also said that retailers may think it's a good idea to sell illicit tobacco, but that it was damaging their store and the industry as whole.

"Some retailers are being suckered into selling illicit tobacco, thinking it's a way to make a quick buck, but in reality it's damaging the perception of stores, with consumers thinking that all retailers are selling illicit products," added Blackburn. "Any retailer who is offered illicit tobacco or knows of a store that is selling illicit products should call the customs hotline on 0800 595 000."

Don't waste your energy

With energy bills set to grow by a further 15% by 2020, leading independent retailer Jonathan James revealed how he was already achieving significant savings by reducing energy use.

Jonathan has recorded a 40% reduction in his refrigeration costs thanks to new doors on chillers. Benefits also included a more comfortable in-store environment and happier shoppers. "If your store is too cold customers will be more inclined to go on a shopping raid than a shopping mission," he said.

Fostering an energy-saving ethos among store staff could produce a tangible benefit for next to no economic outlay, Ecomonitor managing director Brian O'Hagan added. "Savings of up to 12% can be achieved just by getting your staff focused on and engaged with energy saving," he said. Retailers were also advised to have smart meters fitted prior to carrying out any energy reduction work so that the benefits could be accurately measured.

Labelled with love

Own-label products were the subject of this lively panel debate involving HIM executive director Jill Livesey, Booker sales director Steve Fox and Premier retailer Jimmy Patel. Dramatic improvements in quality were prompting shoppers to switch to own label, with 75% now seeking out a choice of branded and own-label goods, Livesey said.

With many own-label brands offering margins of up to 30%, the change was also good news for retailers, Jimmy said. However, space constraints meant retailers had to be extra savvy about which products they stocked, he warned. With its £1 pricemark and recognised branding, Booker's new Euroshopper milk was expected to be a "huge success", Fox added.
best new idea
Low Low Snack Pack from Kerry Foods was the winner of the Best New Idea award held throughout NCS.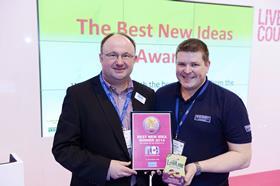 The product is a chilled snack pack containing five slices of lower-fat cheese, multigrain toast pieces and relish in a choice of three varieties: red pepper & onion; sweet tomato; and caramelised onion chutney.
The product's main point of difference is that it is aimed at adults rather than children, and the lower fat product is suitable for both men and women to eat while on the go.
The product achieved the highest number of votes on official voting slips filled in by visitors to the show. Visitors praised the product's convenience, practicality and its taste.
Kerry Foods customer marketing controller Richard Tyler (pictured right) accepted the award from C-Store editor David Rees.
product news
Juicy news
Soft drinks supplier The Fresh Generation was showing off its new Vegesentials Fresh Kids on the Go drinks. Available in three flavours – cheeky carrot & peach juice, cool cucumber & pineapple smoothie and groovy beet & strawberry juice – the 125ml bottles of juice retail at £1.60- £1.80. The company donates 5p from every bottle of the original Vegesentials juice drinks sold to Diabetes UK. Containing 50% fruit and 50% veg, the original Vegesentials drinks flavours include: beetroot, pomegranate & carrot; celery, apple & kale; carrot, mango & parsnip; cucumber, pineapple & spinach; carrot, peach & cucumber; and beetroot, blueberry & cucumber.
Protein fix
High-protein dairy drink Upbeat was being promoted at NCS. It contains 20g of protein in each bottle, which is the equivalent of three eggs or a chicken breast. The drink targets 24- to 45-year-olds who have active lifestyles, such as on-the-go commuters and mums. A 250ml bottle has an rrp of £1.79 and is available in strawberry and mango & passion fruit flavours.
Ice cream for ewe
With 20% of the population intolerant to cow's milk, Styles Slim Ewe ice dessert made with sheep's milk was being offered as a tasty alternative. The ice dessert is much lower in fat and calories than standard ice cream. It has an rrp of £1.50 for a 125ml tub, £4.25 for a 550ml tub, and contains twice the amount of calcium of cows' milk and under 75 calories per 100ml.
Personal touch
Laura's Chocolates highlighted its eye-catching chocolate blocks designed to differentiate your store from the competition. White and milk chocolate 110g tablets (rrp £3.50) come emblazoned with an array of messages for all occasions, including 'Happy Birthday', 'Thank you' and 'Good Luck'. They can also be personalised with your store's name, town or village.
Plastic fantastic
Equipment supplier Wanzl introduced its Tango City Shopper 75ltr plastic trolleys at NCS. "One of the problems with metal trolleys is that they get stolen and sold as scrap," pointed out account manager Nimbus Cottrell. "Carrefour has these trolleys throughout Europe and has seen a significant drop in theft as a result." The trolleys come in a range of colours, including pink, lime green, orange and red, and come with a pound lock and promotional signage as standard. They are priced at £90.62 per unit.
Dairy delights
Salcombe Dairy showed off its relaunched retail range at the show. The ice cream comes in an array of flavours, including honeycomb, Madagascan vanilla, rich Belgian chocolate, rum & raisin, peppermint, stem ginger and strawberry. Small 120ml tubs retail at between £1.80 and £2, while larger 500ml tubs are priced at £4.99. The firm also has five sorbet flavours, and a selection of frozen yogurts.
A shed full of snacks
Retailers looking to liven up their food-to-go offering headed to the Moordales Foods stand. Its new Snak Shed food range comprises flapjacks, nut bars and cookies, with prices starting from 79p. Items come in smart silver and pink packaging, which has clear windows to allow consumers to see what's inside.
Breakfast roll
Rollover Hot Dogs unveiled its new display unit and breakfast offering. The new breakfast solution, which features Lincolnshire sausages, is designed to help retailers get more from their Rollover unit and capitalise on the one in four consumers who have breakfast on the go.
Shining star
Heineken was on hand to explain its Star Retailer programme to visitors. To celebrate its two-year anniversary, the scheme's website, brochure and number of rewards have been updated to offer more motivation for retailers looking to grow their beer category sales.
Take the biscuit
Bekart's Biscuitbutter was attracting plenty of interest on its NCS debut. The 250g jars of caramelised biscuits are available in crunchy and smooth variants and offer an alternative to peanut butter and chocolate spreads.
Wheelie good deal
Retail equipment specialists Mondo was offering its best-selling 30ltr TB30 trolley basket at a special price of £99 for 10 in a deal available for a limited period. "People will shop for longer and spend more if they don't have to carry a heavy basket," said Mondo Industries managing director Paul Mumford.
Liquid lunch
Vapestick unveiled a new refillable device and range of seven flavoured e-liquids. The move is designed to meet the needs of the growing number of traditional e-cig users who are turning to refillable products and e-liquids. The new Vapestick Max clearomiser device can be refilled with any one of its flavoured V-Liquids, priced at £4.99 a bottle.
Flavour of the month
E-cig brand Multicig was showing off Multivape, a new rechargeable modular device which vappers can fill with one of five UK-made flavoured e-liquids. The device comes in a kit complete with a USB charger and 7ml sample of 'menthol mist' or 'tobacco leaf' flavoured e-liquid priced at £24.99.
Onwards and upwards
Unilever celebrated the 10-year anniversary of its Partners for Growth mentoring programme. This year the website will be relaunched, offering market trends, profit calculators and an 'ask the experts' section to help retailers achieve growth.